Knockout Dropper, From my father's eulogy: "Last week as I went through his stuff looking for information for this service, I discovered that the plane that carried 'Mac' on his last mission over Europe was named the 'Knockout Dropper.'  That particular B-17 was the first American heavy bomber to survive 75 missions, and in over 650 hours of flight, no member of any crew was ever wounded or killed.  Dad had been lucky and he knew it.  He was promoted to the rank of Tech Sergeant and because he was part of the crew that flew on that 75th mission, they were chosen to fly the "Knockout Dropper" back home.  After eighteen months flying combat missions in the US Army Eighth Air Force, 'Mac' was awarded The Distinguished Flying Cross and an Air Medal with three Oak Leaf Clusters…'For extraordinary achievement…displaying great courage and skill, fighting from his gun position, Sgt. Mahaffey has warded off many enemy attacks and has materially aided in the success of each of these missions… and on all these occasions reflected the highest credit upon himself and the Armed Forces of the United States.'…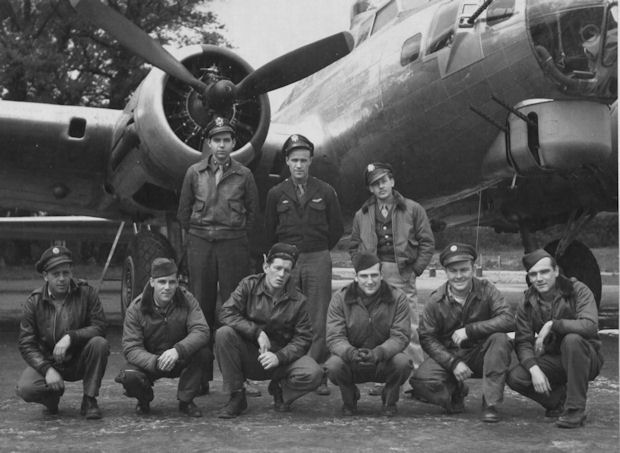 http://www.303rdbg.com/359halpin.html "Mac" is kneeling second from the right
"… 'Mac' kept those medals in an old cigar box in the top drawer of his dresser along with his socks and handkerchiefs.  He showed them to us only once, after we'd watched Gregory Peck on TV in a movie called Twelve O'Clock High, anyway I can't remember whether it was me or brother Bill who asked him if the war was like what we'd seen in the movies.  Mac hesitated, because most people who've experienced combat instinctively understand that the rest of us can't begin to comprehend the reality of war, then he said, "No, not really.  The movies don't have time to show you what it's like to wait for the weather to clear or how long it takes to fly to the target or how cold it gets, and they don't show how scared almost everybody feels because you don't know where or when the attack is coming."  Then he told us about the missions over Schweinfurt and how the flak was so thick you could almost walk on it… "The next day the BBC said we'd lost sixty-five planes and the Germans claimed they shot down eighty.  I think we lost more than that, but when we finally got home and I stepped off that plane, I knew that I was lucky to be alive and every day I lived after that was extra time.  That's when I really came to know the Maker."
The Wall: Twisted memories make Memorial Day hard for me… even though my brother Bill served in the Army during Cuban Missile Crisis and my old man 'Mac' was an honest to god war hero, when my time to serve came in 1969, I chose another path as a conscientious objector, draft resistor and federal fugitive.  There's a long tale to be told behind that journey, but at the center of it were several Vietnam Vets who set me straight about the realities of that particular war.  
In July of 1980 when the Vietnam Veterans Memorial Fund announced a design competition, I was coming out on the other side of a very strange situation and with time on my hands I put together a proposal for a design based on the Great Seal pyramid on the back of the US dollar bill:
http://en.wikipedia.org/wiki/File:United_States_one_dollar_bill,_re...
My design was an incorporation of a children's art project and a proposed amendment to the U. S. Constitution:
The memorial will be constructed as a pyramid assembled with bronze castings from models and drawings of the heads, torsos, limbs of children collected from students in art classes from all over the world. 
With dimensions sufficient to seat a joint session of Congress, it will serve as a memorial to all those who gave their lives during our conflict in Southeast Asia: U. S. Armed Forces, NVA, Viet Cong, Laotian, Cambodian, any and all who served in SEATO forces  as well as the millions of civilians who died.
As an integral part of this memorial I propose the following amendment to the Constitution of the United States:
Section 1. Any resolution of Congress that commits U.S. Armed Forces to military actions beyond the borders of the United States shall not be authorized for any period of time greater than one year and thereafter it shall not be extended without a Congressional declaration of war as required in Article 1 Section 8 of this Constitution.  
Section 2. For the purpose of a Congressional Declaration of War the Senate and the House of Representative shall sit in a public open joint session in the Vietnam Veterans Memorial.
I can't remember if I actually submitted the design proposal; but I do remember writing it up, making several renderings and fashioning at least three sculptures, one of a crying infant in the arms of its screaming mother.  If I did, I'm glad it wasn't selected for the competition.  In my mind Maya Ying Lin's unanimously selected winning design was and is the very best expression of remembrance for those veterans who gave their lives during that nightmare in Southeast Asia.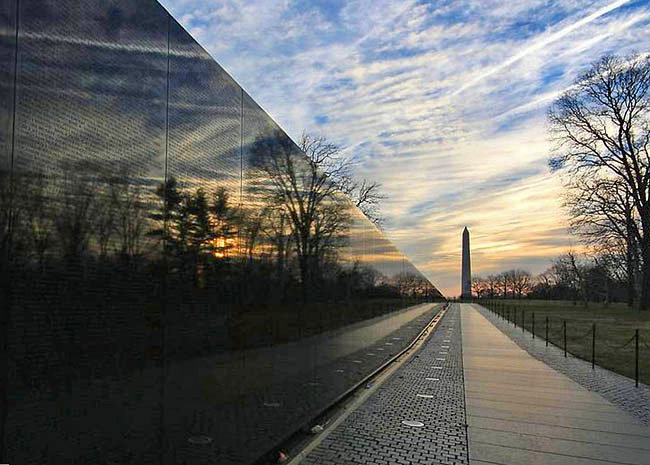 http://www.scenicusa.net/101411.html
http://newsfeed.time.com/2012/01/05/
I've never been to see the Wall.  I've considered it, but I cannot go there.  In 1969 I chose to set myself separate from these men and women and my choice has proven to be irrevocable.  Although I respect and empathize with every one of the 58,256 combat veterans who gave their lives in service over those twenty years of undeclared war, and all who have served in all the undeclared wars that followed, I can not find it in myself to visit the Wall.  Perhaps the prayer at the dedication of the memorial explains – please listen.
1982_Vietnam_Veterans_Memorial_Closing_Prayer.ogv
Except for attributed photos and text, all content is copyrighted © 2012 JKM (an apparently ineffectual boilerplate joke?)