David Horowitz in Big Agenda: President Trump's Plan to Save America (2017) blames the Liberal-Left, not Neoliberalism for what he and Donald Trump perceive as the downfall of America.  Horowitz writes that Donald Trump's victory in the 2016 election was a political earthquake.  It put an end to eight years of a left-wing presidency that divided the American people, eroded American sovereignty, diminished American power, and undermined a constitutional foundation that had made America prosperous and great.
Horowitz makes no mention of the corporation of America nor the Koch Network and the fact that Sheldon Adelson, a member of the Koch Network, the Kochtopus, who had vowed to underwrite the winning Republican primary candidate.  Trump won in a wide field of 17, thereby Sheldon Adelson sponsored Trump's campaign, while the Koch brothers, Charles and David supported those running down-ballot.  Jane Mayer in Dark Money: The Hidden History of the Billionaires Behind the Rise of the Radical Right (2016) writes that Trump was left off the Koch's candidates' list for donations.
THE ADELSON EFFECT
Matt Isaacs in "Sheldon Adelson Goes All In," Mother Jones (March/April 2016) writes that the other GOP presidential hopefuls made sure to be on Sheldon Adelson's radar, most notably in December, when they appeared onstage at his Venetian resort for a prime-time debate.  Last spring, Adelson sent word that if one of Jeb Bush's campaign advisers went through with plans to address a dovish Israel policy organization, it would cost Bush "a lot of money."  Even Donald Trump, who swore off contributions from his fellow billionaires, sent Adelson a glossy booklet of photographs from a gala where he accepted an award for boosting US-Israel relations.  "Sheldon," the candidate scrawled across the cover, "no one will be a bigger friend to Israel than me!"  (Adelson has promised to support whoever wins the nominations.)
The billionaire's expanding power was underscored the morning after the debate, when the Review-Journal revealed that Adelson and his family were behind a shadowy holding company that had purchased the newspaper weeks earlier and kicked off a media frenzy.  Adelson has promised not to meddle with editorial decisions at the Review-Journal, which by virtue of its location frequently covers his company, his industry, and his favorite politicians.  But even if he honors that pledge, staffers have speculated that it doesn't matter: there are any number of subordinates who will aim to please the boss.
ADELSON'S PAY-OFF: AMERICAN ZIONIST/NEOCONS IN THE WHITE HOUSE
During Trump's campaigning in Nevada, the Review-Journal was the only newspaper that reviewed him favorable.  After Trump won election 2016, he hired--gratis, his son-in-law Jered Kushner, and his wife Ivanka, both Orthodox Jews (one converted) as personal advisers, and selected an American Zionist/Neocons as ambassador to Israel.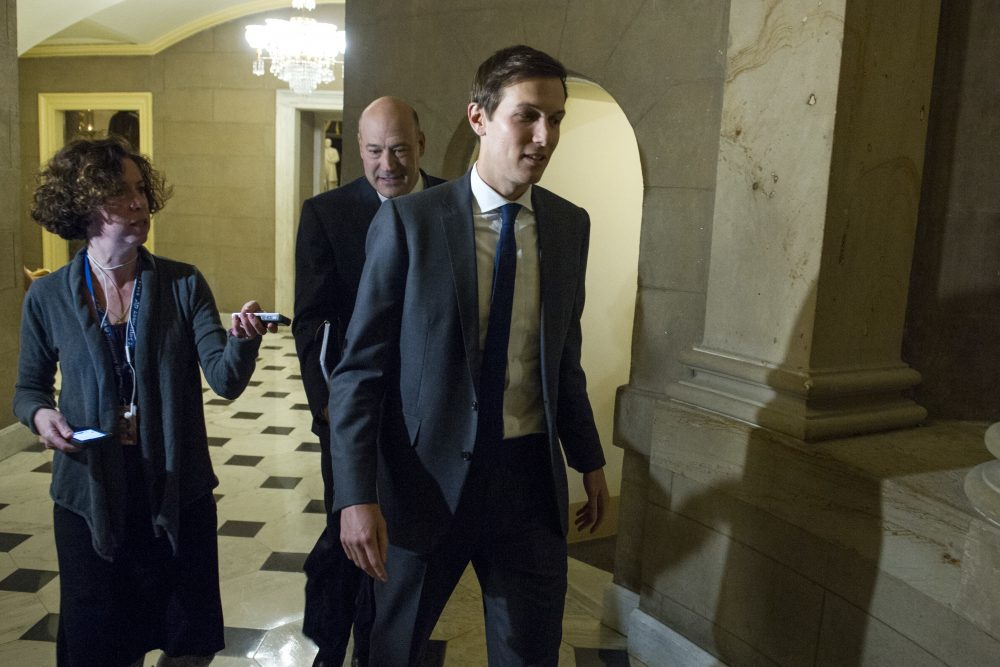 Jared Kushner, son-in-law of President-elect Donald Trump, right, and Gary Cohn, president and COO of Goldman Sachs arrive for a meeting with House Speaker Paul Ryan of Wis., on Capitol Hill, in Washington, Monday, Jan. 9, 2017. (Cliff Owen/AP)
Jared Kushner, President Trump's son-in-law and White House senior adviser, has a growing list of responsibilities.
He set up Trump's meeting this week with Chinese President Xi Jinping. He's working on the U.S. relationships with China and with Mexico. He's leading the efforts to broker peace between Israel and the Palestinians. He's leading the White House Office of American Innovation, which is tackling federal bureaucracy, opioid addiction and veteran health care. And on Monday he traveled to Iraq with the chairman of the Joint Chiefs of Staff.
Here & Now's Jeremy Hobson talks with Andrew Rice (@riceid), contributing editor at New York Magazine, about how Kushner became such an important and influential member of Trump's inner circle.
Interview Highlights
On Kushner's background and expertise
"He's sort of the son-in-law without portfolio in the administration. He is an adviser to President Trump. He's said to be the last person that President Trump talks to before he makes very important decisions. Going into the administration, it was said that he would have free rein to intervene anywhere that the president saw fit. We're seeing evidence of that in the sheer diversity of things that he's gotten involved with just in the first couple months of the administration.
"He was a real estate developer. He inherited a real estate company from his father, who didn't die but actually went to federal prison for a rather baroque scandal. He was thrown into this position of great responsibility in the family company at a very young age in his early 20s. He also owned a newspaper called the New York Observer that covers the New York City elite. He was both a media baron and a real estate player. But really, not anyone who has any experience in policy, foreign policy or any of the big matters that he's now involved in."
"I think that Jared came into his own and became a truly integral part of the Trump world via the campaign. "

Andrew Rice
On how he met Ivanka Trump
"They originally met — it's a classic New York tabloid elite meet-cute story. They were dating, but they broke up partly over religious concerns on Jared Kushner's family's part because they are quite Orthodox Jews. Eventually, they got back together. The matchmaker was Wendi Deng, the now ex-wife of Rupert Murdoch, who arranged for them to each independently invited to the Murdoch yacht, each not knowing that the other was going to be there. Rupert and Wendi Deng talked them into getting back together because they thought they were such a good couple."
On Kushner's relationship with Donald Trump
"I think that Jared came into his own and became a truly integral part of the Trump world via the campaign. He came in and was given smallish tasks to do by Trump. He, by all accounts, performed them well. As time went on, he became more and more of a power player within that campaign. He was instrumental in the removal of at least two campaign managers, Corey Lewandowski and Paul Manafort. That's just indicative of his growing influence within Trump's inner circle. What we've seen so far is that Donald Trump is somebody who values loyalty very highly and he values family loyalty much higher than any other form of loyalty. Kushner showed, if nothing else, that he's intensely loyal to Donald Trump."
On whether Kushner is a foreign policy hawk or dove
"The only area in which it's really truly possible to say definitively is Israel. He's very much in lockstep with Netanyahu. He's somebody who really supports the government of Israel right down the line. On other things — say for instance China and other matters — there is some evidence that Kushner is a less hardline figure than somebody like Steve Bannon, with whom he has had a cooperative relationship during the campaign. There have been reports that there's more tension between them now. But I think it's quite difficult to talk about a world view of Jared Kushner because really I think his world view is basically trying to put into action Donald Trump's policies or Donald Trump's ideology. He's really about fulfilling the Trump agenda such as it is, more than advancing any particular ideology."
On whether Kushner believes in the Trump agenda
"I think he's a true believer in Trump. I think the agenda is really whatever Trump happens to be enunciating at any given time. Jared would probably be perfectly comfortable if the president decided he wanted to tack back toward the center and do some things on infrastructure, which Jared is very much in favor of. If he were to try to do some things on education, tax reform — a relatively moderate tax reform that the Gary Cohn of Goldman Sachs, who's quite close to Jared, has been advocating — I think that's where Jared's beliefs lie. But ultimately, I think he's going to do whatever Donald Trump wants." http://www.wbur.org/hereandnow/2017/04/05/who-is-jared-kushner

This segment aired on April 5, 2017.
Morning News Brief: Trump Orders Syria Airstrikes, Hosts Chinese President
10:21
President Trump says he ordered strikes against a Syrian air base in response to a chemical weapons attack ordered by Bashar Assad. Also, Trump met with China's President Xi Jinping.  http://www.npr.org/2017/04/07/522968561/morning-news-brief-trump-or...

Trump launches an attack on Syria. Our nuclear Senate. Bannon bumped. Our weekly news round table goes behind the headlines.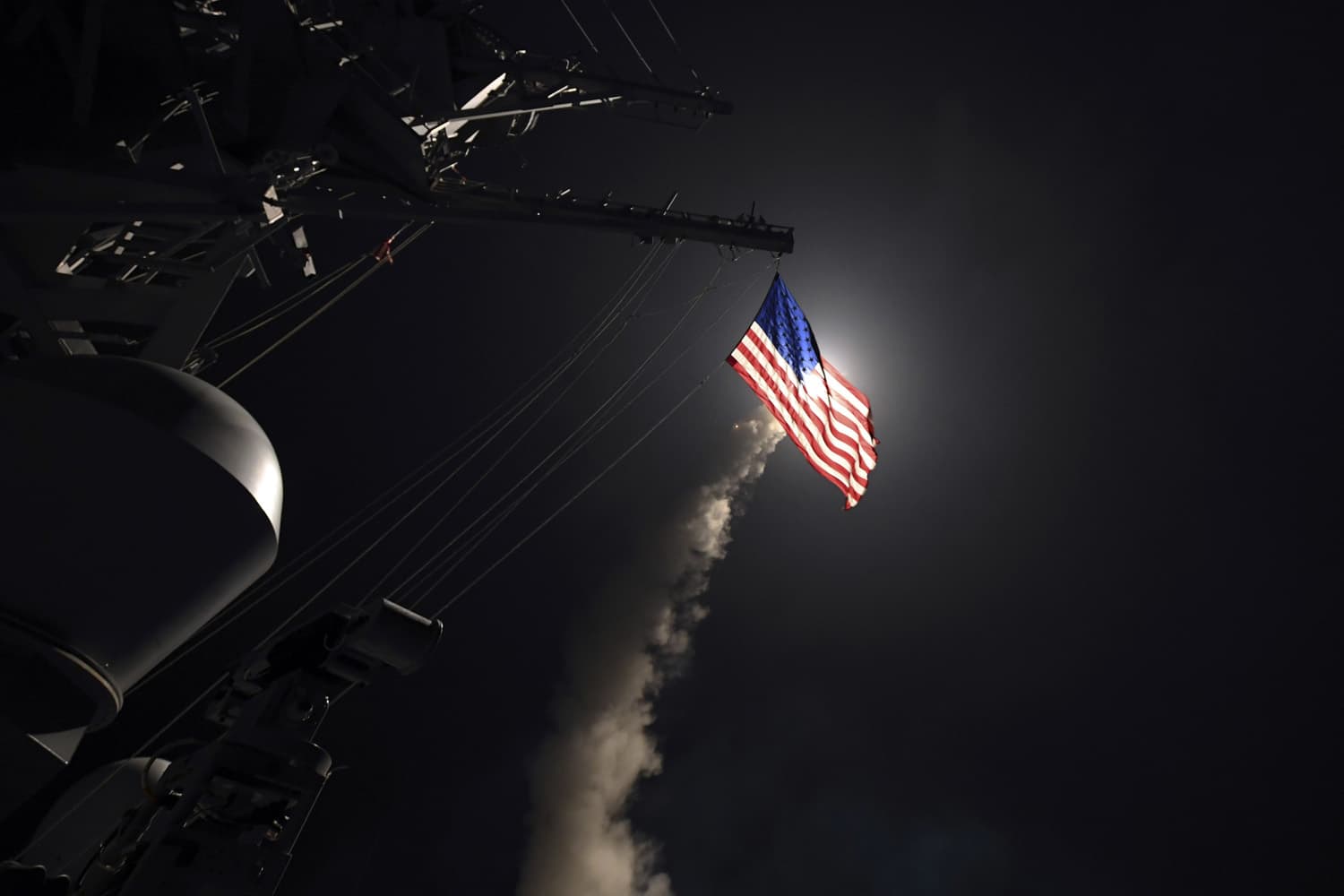 I
n this image provided by the U.S. Navy, the guided-missile destroyer USS Porter (DDG 78) launches a tomahawk land attack missile in the Mediterranean Sea, Friday, April 7, 2017. (U.S. Navy/AP)
Another torrent of news this week, and then – boom. The US attacked Syria. Missiles raining down on a Syrian airbase accused of deploying chemical weapons. An attack ordered by a president who always said "don't do it." It's done. In the US Senate, the nuclear option is invoked to push through Supreme Court nominee Neil Gorsuch. In Florida, Donald Trump sits down with China's leader Xi Jinping. Bill O'Reilly's in trouble. Bannon is bumped. This hour On Point, our weekly news roundtable goes behind the headlines. —
Tom Ashbrook
Guests
Michael Crowley, senior foreign affairs correspondent for POLITICO. (@michaelcrowley)
Molly Ball, national political writer for the Atlantic.
Jack Beatty, On Point news analyst. (@JackBeattyNPR)
From Tom's Reading List
POLITICO: Trump's 'red line' reversal hints at Syria shift -- "Appearing next to Jordan's King Abdullah II at the White House, Trump said Assad must be held accountable for a chemical weapons attack this week in a pro-rebel area that reportedly killed dozens of people, many of them children. U.S. officials believe the Assad regime is likely behind the attack, which bore the hallmarks of nerve gas, though Damascus has denied responsibility."
The Atlantic: Republicans Abandon the Filibuster to Save Neil Gorsuch — "The demise of perhaps the Senate's most famous rule—on nominations if not yet on legislation—came in a series of procedural votes rendered anti-climatic by the aura of inevitability that had been building for weeks after Trump named the 49-year-old Colorado appellate judge to replace the late Justice Antonin Scalia on the Supreme Court. The move not only ensures the return of a fifth conservative vote to the court but likely will permanently alter the selection of justices going forward: A president whose party controls the majority in the Senate will no longer need to choose a candidate that can receive bipartisan support, empowering liberal and conservative activists over those in the middle."
New York Times: U.S. Said to Weigh Military Responses to Syrian Chemical Attack -- "Senior Defense Department officials are developing options for a military strike in response to the Syrian government's chemical weapons attack that killed dozens of civilians on Tuesday, officials said on Thursday. The top-level consultations about military options involve Defense Secretary Jim Mattis and Gen. Joseph F. Dunford Jr., the chairman of the Joint Chiefs of Staff, as well as military officers at the United States Central Command." http://www.wbur.org/onpoint/2017/04/07/trump-xi-senate-syria

This program aired on April 7, 2017.
According to Jacob Heilbrunn in They Knew They Were Right: The Rise Of The Neocons (2008) James Woolsey was among some of the neoconservatives who advertised in an August 17, 1992 New York Times looking hopefully to Bill Clinton during his 1992, who was hailed as a "New Democrat" who would pull the Party back to the right, or at least to the center in foreign policy, and incidentally, appoint neoconservatives to important positions.  R. James Woolsey became the Head of the CIA.  Stefan Halper & Jonathan Clarke in America Alone: The Neo-Conservatives And The Global Order (2004) add more information about James Woolsey.  Namely that like all Neocons, he has "not come clean and is not coming clean with the country."
Halper & Clarke agree that positive side of neoconservatives/Neocons public availability is that they and their views are easy to identify.  They include individuals who hold or held positions in government, such as former CIA Director James Woolsey.  They posit that before 9/11, foreign policy observers were in agreement on the heinous nature of Saddam Hussein's regime, but few outside neoconservative circles saw Iraq as a direct threat to American security, let alone were privy to their millenarian objectives of forceful regional transformation linked to the Middle East peace process.  As presidential candidate, Bush told an interviewer that the most realistic way to deal with Saddam and his kind was to "keep them isolated in the world of public opinion and to work with our alliances to keep them isolated."  Within the week, members of the war cabinet proposed including Iraq in the first round of military targets.  At Camp David's Laurel Lodge on September 15, 2001, Wolfowitz presented the argument that the United States should attack not Afghanistan, but rather Saddam Hussein.  although the intelligence services had no evidence linking Saddam Hussein to the attacks, Wolfowitz had already made headlines in a Pentagon press briefing two days earlier by advocating not just pursuit of al-Qaeda but a "broad and sustained campaign" that would involve "removing" and "ending states."  James Woolsey was even quicker off the mark, saying that Iraq should be the target, "no matter who should be responsible" for the attacks. 
As for Michael Ledeen, Halper & Clark write that the second question that need to be asked about the neoconservative predilection for force is whether this distorts their analysis of international problems.  If the dominant policy instrument is military, then the policy mindset is to look for enemies.  China, in all its complexity and ambiguity, is caricatured as an adversary against which the only option is to "counter confront and challenge."
President Trump Meets With China's Xi Jinping
3:33
Many Chinese wanted Trump for president because they saw him as someone they could cut a deal with. Some also see a chance for China to profit from Trump's distancing the U.S. from traditional allies.  http://www.npr.org/2017/04/05/522756867/president-trump-meets-with-...
Economists Say Trump Seems To Misunderstand Significance Of Trade Deficit
4:05
April 5, 2017
4:33 PM ET
The Trump administration has launched an investigation into the cause of trade deficits with U.S. trading partners. But most economists, say Trump appears to misunderstand what a trade deficit means.  http://www.npr.org/2017/04/05/522756874/economists-say-trump-seems-...
The ongoing struggle between hardliners and reformists in Iran is ignored, rather than subtly analyzed for where this might be pushed in America's direction.  Instead of this, Michael Ledeen of the American Enterprise Institute puts forward the flamboyant military option suggesting that "far more than the overthrow of Saddam Hussein, the defeat of the mullahcracy and the triumph of freedom in Tehran would be a truly historic event."
John Bolton brushes aside possible openings in the North Korean position as not worth knowing and indulges in personal recrimination against those with whom he is meant to be negotiating (while the authors share his views on Kim Jong-Il, they would have preferred a different venue to present them).  In each case there is sound argument that the neo-conservative emphasis on force lacks credibility, principally because of the likely devastation that an attack would unleash.  Is it likely, for example, that the United States would risk the annihilation of Seoul (against which some 11,000 North Korean artillery pieces are arrayed along the Demilitarized Zone thirty-three miles to the north) by an attack on North Korea?  This is highly improbable.  But by talking of military options that do not in fact exist, the neo-conservatives undo American credibility, making the search for solutions that much more difficult to obtain.
Halper & Clarke's last set of questions concerns the impact of neo-conservative Jews on the applicability of force on American global relations and on American society.  Two neoconservatives, Professor Eliot Cohen of the Defense Policy Board and former CIA Director James Woolsey (like Gingrich, more an ideological fellow-traveler than a founding member), have suggested that the United States is now "on the march" in "World War IV." 
Clearly, this grabs headlines and, in its evocation of the Trotskyists notion of permanent revolution, keeps us alert.  But is this, in fact, the most useful way of looking at the global problems facing the United States?  As ordinary Americans ponder the ways in which they can promote American interests and values--whether in business, offering technologically advanced goods; in the arts, offering recording artists attracting crowds of young people; as hosts welcoming foreign students to witness the best of America; or in a thousand other capacities--we wonder, whether the best image the world can have of America is engagement in warfare twenty-four hours a day, seven days a week, 365 days a year.
WHY THE KOCHTOPUS WOULD NOT FINANCE TRUMP'S PATH TO THE WHITE HOUSE
Mayer writes why Trump was left off the list of political Koch benefactors.  In August 2015, as his Trump's rivals flocked to meet the Koch donors, he tweeted, "I wish good luck to all of the Republican candidates that traveled to California to beg for money etc. from the Koch Brother.  Puppets?"  Trump's popularity suggested that voters were hungry for independent candidates who wouldn't spout the donors' lines.  His call to close the carried-interest tax loophole, and talk of the ultra-rich not paying it share, as well as his anti-immigrant rants, made is opponents appear robotically subservient, and out of touch.  But few other Republican candidates could afford to ignore the Kochs.
Among their most astonishing feats, the Kochs had succeeded in persuading hundreds of the other richest conservatives in the country to give them control over their millions of dollars in contributions, in effect making them leaders of a conservative billionaires' caucus.  Most of the other partners, as they called themselves, were silent.  Their names rarely if ever appeared.  When, in response to criticism, the Kochs invited the media to cover snippets of their summits, they insisted that the reporters agree to name the other donors.  Yet this secretive, unelected, and unaccountable club was changing the face of American politics [and democracy].
AMERICA THE NIGHTMARE STATE
Horowitz paints a picture of a Bizarre World of American as Trump's "Post-election Agenda."  He notes, that there can be no "honeymoon" in the wake of this election--the most divisive since American's civil War.  Republicans must drop their attitude that these political conflicts are "business as usual" and must begin to confront the fact that the progressive agenda is a dagger aimed at the heart of American's social contract and the security of the American people.  Two points in Trump's campaign speech at Gettysburg, which he called his "Contract with the American Voter," [similar to Gingrich's "Contract With America & just as unenforceable and destructive of American democracy] underscore this point.  Trump pledged that on his first day in office, he would "begin removing the more than 2 million criminal illegal immigrants from the country and cancel visas to foreign countries that won't take them back," and he would "suspend immigration from terror-prone regions where vetting cannot safely occur.  All vetting of people coming into our country will be considered extreme vetting."  The New Republicanism must be a movement opposed to the progressives' sellout of American sovereignty, of America's historical uniqueness.  It must be unapologetic in it patriotism and in its commitment to rebuilding America economically and militarily.  Third, the New Republicanism must show its contempt for political correctness that denies the virtues of America's culture, which is founded on individual rights and equality before the law.  It must oppose progressive "multiculturalism" which seeks to replace this culture with anti-American hierarchies of gender, class and race.
http://www.npr.org/podcasts/516647023/indivisible
April 4, 2017
Week 11: Introducing a New Social Experiment
On this edition of River to River, host Ben Kieffer talks with Ambassador Darci Vetter, Drake University alumna and former Chief Agricultural Negotiator for the U.S. Trade, about how President Donald Trump's new "America First" trade policy is likely to affect Iowa's agriculture and other exports. 
Regarding the president's focus on renegotiating NAFTA, she thinks the trade agreement works fairly well and would like to see it updated, rather than dismantled.
"We already have completely open borders with Mexico and with Canada on all products except for dairy, poultry, and eggs. So if the stated goal is to expand our market access, or to get rid of the barriers to that market, or change the terms of trade, there's nowhere to go but down. So the real question is, 'What are the things about NAFTA that aren't working?" she says.
"I think there's a difference between saying, 'Let's re-do this arrangement,' which could possibly put barriers on our ag exports and other exports to Mexico, or to say, 'This is a 23 year old agreement - can we update it and make it more relevant to the way that commerce moves north and south?"
Vetter will speak in Des Moines on Friday as part of the 4th Annual Nelson Institute Conference on Global Affairs. Her talk is titled, "From Iowa to the World - Economic Nationalism and Global Trade." http://iowapublicradio.org/post/ambassador-darci-vetter-future-nafta

David Horowitz writes that before Trump's entry into the presidential primaries, there was not a single Republican figure with a national platform who would have called Hillary Clinton a crook or a liar to her face, although she is both.  Before the advent of Trump, there is not a single Republican with a national platform who would have dared to be so politically incorrect.  The reason for this is that Republicans are well aware of what happens to anyone who would do so.  To be politically incorrect, one has to believe passionately in one's cause in order to advance it.  One has to take the hits and carry on.
Like Hitler at beer hall, David Horowitz rants on and on about the joys of Trump's "big agenda"--on how Trump will change our liberal democracy into a totalitarian state ruled by a man with a comb-over instead of a mustache: Today America; tomorrow China.