His documented use of taxpayer dollars to bury allegations of sexual harassment goes too far.
John Conyers Jr. has a long and complicated legacy in southeast Michigan and the U.S. Congress. 
He has been an undisputed hero of the civil rights movement, a legislator of uncommon influence and power, and an aging icon whose felonious wife and sometimes-wandering pace have confounded his place in history. 
But the revelations of Conyers' alleged sexual harassment scandal and his documented use of taxpayer dollars to bury that scandal, in violation of congressional ethics rules, is less ambiguous.
It is the kind of behavior that can never be tolerated in a public official, much less an elected representative of the people.  
And it means that whatever Conyers' legacy will eventually be, his tenure as a member of Congress must end — now. 
He should resign his position and allow the investigation into his behavior to unfold without the threat that it would render him, and the people he now represents, effectively voiceless.
A voice for equality
We reach this conclusion with an incredible amount of disappointment. 
The word "hero" is invoked, without much hyperbole, around Conyers' name, dating not only to his initial run for Congress in the mid-1960s, but to the stalwart civil rights activism in the 1950s and early 1960s that brought him to that point. 
His career in Congress saw him play key roles in everything from voting rights and health care reform to the creation of the Martin Luther King Holiday. And even in recent years, when he has struggled with focus and the rigor of the job, he has remained a steadfast voice for social justice and equality. 
A problem in Congress
But even the most generous interpretation of the story revealed early this week is absolutely devastating to his ability to stay in Congress. 
Monday night, the news site BuzzFeed reported a former Conyers staffer's claims that she was fired after she rebuffed the congressman's persistent sexual advances. 
Those claims were made in sworn affidavits by the alleged victim and three other former staffers, all obtained by BuzzFeed. 
In the current climate of revelations about powerful men abusing their positions and committing horrific acts of harassment, abuse or assault on women, those allegations should be enough to spur a dedicated congressional inquiry. Without a doubt, Congress has a real problem, and one that the American people deserve to see resolved. 
More: Rep. John Conyers denies harassing female employee as ethics probe ...
Mike Thompson cartoon: Sexual harassment is rife Washington
Brian Dickerson: To apologize or not? Calculating the cost of contrition
A dishonest arrangement
But Conyers' situation gets worse — far, far worse. 
After the alleged victim made a formal complaint through the U.S. Congress Office of Compliance, Conyers' office endorsed an alternative route. If the woman dropped her complaint and signed a legal document attesting that Conyers had done no wrong, and if she agreed never to disparage him or make subsequent claims, she'd be re-hired as a temporary "no-show" employee and paid $27,111.75 over the course of three months. She accepted the terms.
Conyers' office defended the arrangement Tuesday as a means to avoid "protracted litigation" and defended the sum as a "reasonable severance payment." Conyers also continues to deny the woman's claims. 
But the House's ethics rules are clear: A House member can't retain an employee who isn't performing work commensurate with the pay, and regardless, can't give back pay for work that stretches further than a month. 
It's a rule Conyers has flouted before. 
He continues to battle an ethics complaint alleging that he violated House rules by keeping a former chief of staff on payroll after she was fired; Conyers' lawyers contend that the representative's office has the right to pay severance to its employees at will. Nor is Conyers the only member of Congress who has  come under fire for paying what they've described as severance. 
What makes this payment different? It looks an awful lot like hush money. 
Litigation, contrary to Conyers' statement, wasn't a certain outcome. The staffer's complaint was made through the U.S. Congress Office of Compliance, a secretive body that settles, for congressional employees, the kind of employment law violations that other businesses might hash out in court.
Employees who bring claims through the compliance office are required to sign confidentiality agreements in order for a claim to proceed, a process that seems calculated to preclude the public accounting taxpayers, and voters, are owed. There's a special congressional office that works to resolve claims out of court. An employee determined to file a lawsuit has to go through months of counseling and mediation.  
Over the last two decades, the office has paid $17 million to settle 264 complaints. Legislation introduced by U.S. Rep. Jackie Speier, Democrat of California, would require the office to change its operations, including naming each member who is involved in a claim. 
That's a reform worth pursuing. 
But it's also not the point with Conyers. 
This agreement disrupted the accepted process to deal with claims against members of Congress, and leveraged taxpayer funds — without the oversight of the ethics apparatus of the body itself — to make this claim go away. 
That's not acceptable, on any level. 
And it's a betrayal that breaches the most fundamental trust that exists between a public servant and the people that person represents. 
Even if Conyers could prove that he did not make inappropriate advances toward his former staffer, there's no defense for having used dollars from his congressional office to "settle" a claim. That sort of thing happens in the private sector, yes. It should never, ever happen where public dollars (and public accountability) are concerned. 
It's impossible to know how frequently this happens in Congress. Conyers' spokesperson said the House General Counsel's office signed off on the agreement. But even if this deceptive practice has become commonplace, the Dean of the House should know better. 
 A public betrayal
John Conyers Jr. must go — after 53 years in Congress, after a stellar career of fighting for equality, after contributing so much to southeast Michigan and the nation. 
It's a tragic end to his public career. But it's the appropriate consequence for the stunning subterfuge his office has indulged here, and a needed warning to other members of Congress that this can never be tolerated. http://www.freep.com/story/opinion/editorials/2017/11/21/editorial-...
Who Is Mike Cernovich?
4:47
November 24, 2017
5:08 AM ET
Steve Inskeep talks with Andrew Marantz of The New Yorker about Mike Cernovich, the alt-right figure who obtained documents about sexual misconduct allegations against Democratic Rep. John Conyers.
STEVE INSKEEP, HOST:
There is a backstory to revelations about Democratic Congressman John Conyers. BuzzFeed first reported that the Michigan lawmaker reached a settlement for dismissing an employee who said he sexually harassed her. BuzzFeed based that story on documents, and the documents came through Mike Cernovich, a far-right, pro-Donald Trump activist who is better known for promoting fake scandals than real ones. Andrew Marantz profiled Cernovich for The New Yorker. He's also working on a book about far-right figures and is on the line from Brooklyn. Good morning.
ANDREW MARANTZ: Good morning. How's it going?
INSKEEP: OK. Who is Mike Cernovich?
MARANTZ: Well, more than a year ago, I sort of noticed that a lot of stories were coming from this one guy's Twitter feed, this one guy's Periscope. And I reached out to Mike Cernovich and asked if I could come see how his operation worked. And, you know, it was a very small operation, which - part of what interested me about him was that he, basically as one guy, was able to act as a media company. He could start hashtags trending. He could get his followers mobilized. He could push stories that he wanted to see out into the world and get them on...
INSKEEP: Including made-up stories, right? He's associated in some way with Pizzagate, this conspiracy theory about child trafficking or whatever in Washington that was totally fake.
MARANTZ: He tweeted to the hashtag #pizzagate, yeah. He didn't name the pizza parlor, but he alleged that there could be something to the story about child trafficking. So yeah, there's been a very interesting mix of what he's been willing to push. Sometimes it's legitimate, sometimes it's not. And it raises all these questions of, you know, is he a journalist? Is he a monger of, you know, conspiracy theories? What is he - you know, how do you identify him within this universe? It's been a tricky thing.
INSKEEP: Well, what did he do in the Conyers story exactly?
MARANTZ: Oh, so these documents came to him. There was a tweet that he put out a few days ago offering to pay money for documents that were related to the revelations that the Congressional Office of Compliance has been paying out these secret settlements for many years for sexual harassment allegations. And I - nobody knows whether he did pay, but there was a - you know, documents came to him that appeared to be legitimate - as far as anybody knows so far - that were about many, many allegations about Representative Conyers. And he sent those over to BuzzFeed. And apparently, you know, BuzzFeed checked them out and, you know, decided that they were real and reported them out and ran with them. So...
INSKEEP: Now, BuzzFeed says that they verified the documents a number of ways, including contacting the accuser who was at the heart of the case. But what does it mean that these apparently real documents came through this - I guess I don't want to say a fake source but a source known for fakery?
MARANTZ: Yeah. I mean - you know, so Cernovich says that he could have done this on his own but that he decided to partner with BuzzFeed so that the story would be taken more seriously. And there seems to be some, you know, credibility to that. I mean, the day after the BuzzFeed story came out, I believe it was six lawmakers signed on to this bipartisan bill to reform the system. It's doubtful that they would have done that if it had been branded a Cernovich story.
So that's one way of reading this, that he cared about the issue and wanted it to move forward. There's another way of seeing it that he wanted, you know, the story to be vetted so that he could be sure it was legitimate. It's not clear exactly what his motivation was, but it is clear that, you know, BuzzFeed smelled a story and wanted to pursue it and was willing to, you know, partner with a guy that has a mixed reputation.
INSKEEP: You said you've talked with him, right?
MARANTZ: Yeah.
INSKEEP: Do you feel you understand broadly what he wants out of life or out of his career, what he's doing?
MARANTZ: (Laughter) Well, I think it's a mix. I mean, I think a lot of what he wants is to be seen as legitimate and to do legitimate news. I mean, I think - you know, he's gotten, you know, scoops before this. He seems to have a lot of sources in Washington. He definitely wants to be influential. I mean, I think it's kind of a mix that a lot of people have who are in media.
It's just that we live in this world now where you can do media in any number of ways. You can do it online. You can - you know, you don't have to be sitting in a bureau somewhere in order to make an impact. You know, he can just do it from his laptop.
INSKEEP: Mr. Marantz, thanks very much. Pleasure talking with you.
MARANTZ: Thank you.
INSKEEP: Andrew Marantz is a New Yorker staff writer and author of a forthcoming book about what's often known as the alt-right.
[POST-BROADCAST CORRECTION: In this interview, the guest said activist Mike Cernovich did not mention the pizza parlor in question. In fact, Cernovich did mention Comet Ping Pong in his videos, and falsely suggested there were illicit activities in the basement.]
Copyright © 2017 NPR. https://www.npr.org/2017/11/24/566326431/who-is-mike-cernovich?utm_...
THE ALT-RIGHT IS NOT OUR FRIEND
The Alt-Right is not America's friend.  The Alt-Right, a Trump affiliate, party to what BuzzFeed Editor Alberto Nardelli writes: "Trump is driven by an obsession with unraveling Barack Obama's policies.  'He will ask: 'Did Obama approve this?' And if yes, he will say: 'We don't.' He won't listen to the arguments or debates. He is obsessed with Obama.'" 
Blue Dog infighting made the Obama administration, all but a failure in the 2010 midterms.  2010 was downhill-sliding as the Tea-Party Republicans took the House and the Senate.  If we do not put off airing-our-dirty-linen in hysterical public outbursts until after 2018, we recover neither the House nor Senate, Trump cannot be impeached.
NAMING THE PROBLEM: NEOLIBERALISM 
John Higgs (Stranger Than You Can Imagine) cites that the 1950s was an exciting time to be alive.  "A rising tide of affluence benefited entire populations and suggested that the future could only get better.  The American Dream was the American reality.  The mix of individualism, advertising and corporate growth was a potent cocktail indeed.
But then, at some point in the 1970s, things changed.
THE RISE OF CHINESE CAPITALISM & THE DEATH OF THE AMERICAN DREAM
The retreat of the American Dream, which had promised a future better than the past, is the result of a number of complicated and chaotically linked events from the 1970s.  One of these was the rise of Deng Xiaoping to the position of Paramount Leader of the Chinese Communist Party in December 1978, in the aftermath of the death of Mao.  Deng began the process of introducing a managed form of capitalism into China.  The impacts of this would not be felt immediately, but the availability of cheaper Chinese labor for Western corporations would led to the disappearance of well-paid Western manufacturing jobs, as well as destabilizing trade imbalances.  This process of globalization also led to the disappearance of corporate taxes from government balance sheets.  Corporations increasingly embraced globalization and re-imagined themselves as stateless entities in no way beholden to the nations that formed them.
THE PROBLEM
First, most Americans have diagnosed their socioeconomic problem incorrectly.  Second, and most important: White lives have not mattered since the 1980s, and Black Lives Matter because it illuminates this fact.  And this is what Democrats must center its politics upon.  Above all, our problem is neoliberalism. Income inequality is merely a subset of neoliberalism as Higgs points out--a phenomenon which he sees as a twice told tale.  He explains that Neoliberalism was a school of economic thought that dated back to the 1930s, but it only became the orthodox belief system for politicians and corporations following the election of Margaret thatcher as the British prime minister in 1979 and the arrival of the economist Paul Volcker as Chairman of the US Federal Reserve in 1979.  Neoliberalism at its heart, argued that the state was just too dumb to be left in charge of people's wellbeing.  It just didn't understand the nature of people in the way that the markets understood them.  It had only a fraction of the information needed to make good decisions, and it was too slow, inept and politically motivated to put even that knowledge to good use.
As the Neoliberalists saw it, the role of the state was to put in place a legal system that protected property rights and allowed for free trade and free markets, and to protect this system by military and police forces.  State-owned industries needed to be placed in private ownership and run for profit.  At that point the state had to step away and not interfere.  Private enterprise would take care of the rest.
Neoliberalism was always going to create inequality, but it claimed that this was for the greater good.  If a small elite became immensely wealthy, then this wealth would "trickle down" to the rest of society.  Or in a phrase which came to symbolize the 1980s, "greed is good."  Wealth did not trickle down, needless to say.  It passed upwards from the middle class to the very top.  Few economists now take the idea of the trickle-down effect seriously, but the thinking behind it still colors much of the discussion about global economics.  It is still common to hear the very rich described as "wealth creators," rather than the more accurate "wealth accumulators."
THE MONEY MACHINE THAT CONTROLS AMERICAN POLITICS
The Republican Party no longer exists.  It was replaced by the Tea Party in July 2016 at the RNC.  Ronald P. Formisano (The Tea Party) posits that the Tea Party was an invention (or organized) by "a powerful media engine": "Fox News cable network, owned by right-wing billionaire Rupert Murdoch and run by former Republican campaign manager Roger Ailes.  Intertwined as the Fox News Corporation was with the Tea Party during its explosive growth in 2009, when the 2010 midterm elections approached, Fox News became as much or more integrated with the Republican Party.  The mission of Fox, indeed, appeared to be to fold the Tea Party into the GOP.
Formisano declares that for decades the Koch brothers operated under the radar, funding astroturf (as opposed to grass-roots) lobbying fronts, right-wing think tanks, books, magazines, and what must candidly be called propaganda efforts to advance a libertarian vision that relentlessly promotes their own economic interests.  They have poured millions of dollars into efforts to deny climate change, to oppose laws to reduce carbon emissions, and to keep regulations of pollution lax.  Recently, they have put their resources into lobbying against Wall Street regulation and net neutrality, an internet ground rule opposed by broadband suppliers who want to charge for different levels of service.  They have contributed millions to the campaigns of conservative politicians at the national and state levels, mostly Republicans and, recently, Tea Party candidates.   From 2006 to 2009 they spent $37.9 million lobbying Congress and state legislatures on oil and energy issues.
The Kochs' relative invisibility as political activists and ideological warriors came to an end, however, with an investigative essay by Jane Mayer in the New Yorker issue of August 30, 2010.  "Indeed," wrote Mayer, "the brothers have funded opposition campaigns against so many Obama Administration policies--from health-care reform to the economic-stimulus program--that, in political circles, their ideological network is known as the Kochtopus."
Formisano believes that the Kochs are hardly alone as generous donors to right-wing think tanks, astroturf organizations, political campaigns, and Tea Party activities.  Other prominent sponsors include the Coors beer family; the Waltons of Walmart; the Olin Foundation (one of the pioneers in creating a climate hostile to taxes, government, and all things progressive); Richard Mellon Scaife, banker, publisher, and heir to the Mellon fortune; Rupert Murdoch of News Corporation; and Phillip Morris and Exxon Mobile.  Scaife, it should be noted, became well known in the 1990s when he funded many and all efforts to find damaging material on Bill Clinton's business dealings or personal life.
Jane Mayer (Dark Money) bears witness to Formisano.  Mayer posits that conventional political wisdom measured power on the basis of election outcomes, chalking up 2012 as a loss for the Kochs, 2014 as a win, and 2016 as a [victory].  But this missed the more important story.  The Kochs and their ultra-wealthy allies on the right had become what was arguably the single most effective special-interest group in the country.
The Kochs hadn't done it on their own.  They were the fulfillment of farsighted political visionaries like Lewis Powell [Powell Memorandum], Irving Kristol [the godfather of neo-conservatism/Neocons], William Simon, Michael Joyce, and Paul Weyrich.  They were also the logical extension of the legacies of earlier big right-wing donors John M. Olin, Lynde and Harry Bradley, and Richard Mellon Scaife had blazed the path [in the 1970 the betrayed the White working/middle-class] by the time the Kochs rose to the pinnacle of their power.
During the 1970s, a handful of the nation's wealthiest corporate captains felt overtaxed and over-regulated and decided to fight back.  Disenchanted with the direction of modern America, they launched an ambitious, privately financed war of ideas to radically change the country.  They didn't want to merely win elections; they wanted to change how Americans thought.  Their ambitions were grandiose--to "save" America as they saw it [just as Steve Bannon wishes to do], at every level, by turning the clock back to the Gilded Age before the advent of the Progressive Era.  Charles Koch was young and more libertarian than his predecessors, but, as Brian Doherty observed, his ambitions were if anything even more radical: to pull the government out "at the root," [reflecting Bannon's wishes].
Steve Bannon and Kellyanne Conway were hired by Robert Mercer, an eccentric computer scientist who made a fortune using sophisticated mathematical algorithms to trade stocks to replace Paul Manafort and rescue and manage Trump's faltering campaign.  Mercer was a relative newcomer to the Koch political-financial summits.  He had long held the government in low regard and shared the Kochs' antipathy toward government regulations.
Joshua Green (Devil's Bargain) gives a blow-by-blow account of Manafort's firing and Bannon and Kellyanne's hiring.  Robert Mercer's daughter Rebekah told Trump, "This thing is over, if you don't make a change fast."  She'd spent hours fielding calls from anguished donors.  Her own family was into Trump for $3.4 million, more if you counted ancillary support such as Breitbart.  The RNC, she told him, was days away from cutting him loose and turning it focus to saving the Republican majorities in the House and Senate.
THE PAST VALIDATING THE PRESENT
Professor Herbert P. Jones' Centennial History of the United States posits the century begins with a conservative U.S. and moves gradually into the 40s toward liberalism.  Then in the 60s into revolution.  Then into conservatism as the century begins to wane.  This has happened since the inception of the Republic.  This does not mean that we as democrats, with a small "d" can afford a Trump administration stocked with agents of Barabbas to destroy the government with a cabinet John Nichols explicates in "Horsemen of the Trumpocalypse"--as a gang of "money-changers in the Temple."
Democrats, women and men, must stop playing checkers--become Chess Masters: Insist upon the Congress making ethic inquiries via Committees; not go after Congresspersons with pitchforks.  We need some offending Democrat miscreants in office for our own "good"--seniority is power.  Don't concentrate on men who's "brains are between their legs," and lose the prize.  Make a list checking it twice for the 2018 midterm and the 2020 Presidential election, or lose again.  After 2020, "retire" all the bad guys in D.C. and elsewhere that have had the power to make female-working-lives "not worth living."  And concentrate on the child care that working women need as a talking point.
In situations like this, I turn to the Bible because I know that it is a book of human behavior and outcomes.  I depend on passages from Psalms 37 that have always given me hope that never fails me in my belief that America (before Trump) is as close to heaven as most of US will ever get:
"Let anger alone and leave rage; do not show yourself heated up only to do evil.  I have seen the wicked a tyrant; And spreading himself as a luxuriant tree in native soil.  And yet he proceeded to pass away, and there he was not.  And I kept seeking him, and he was not found."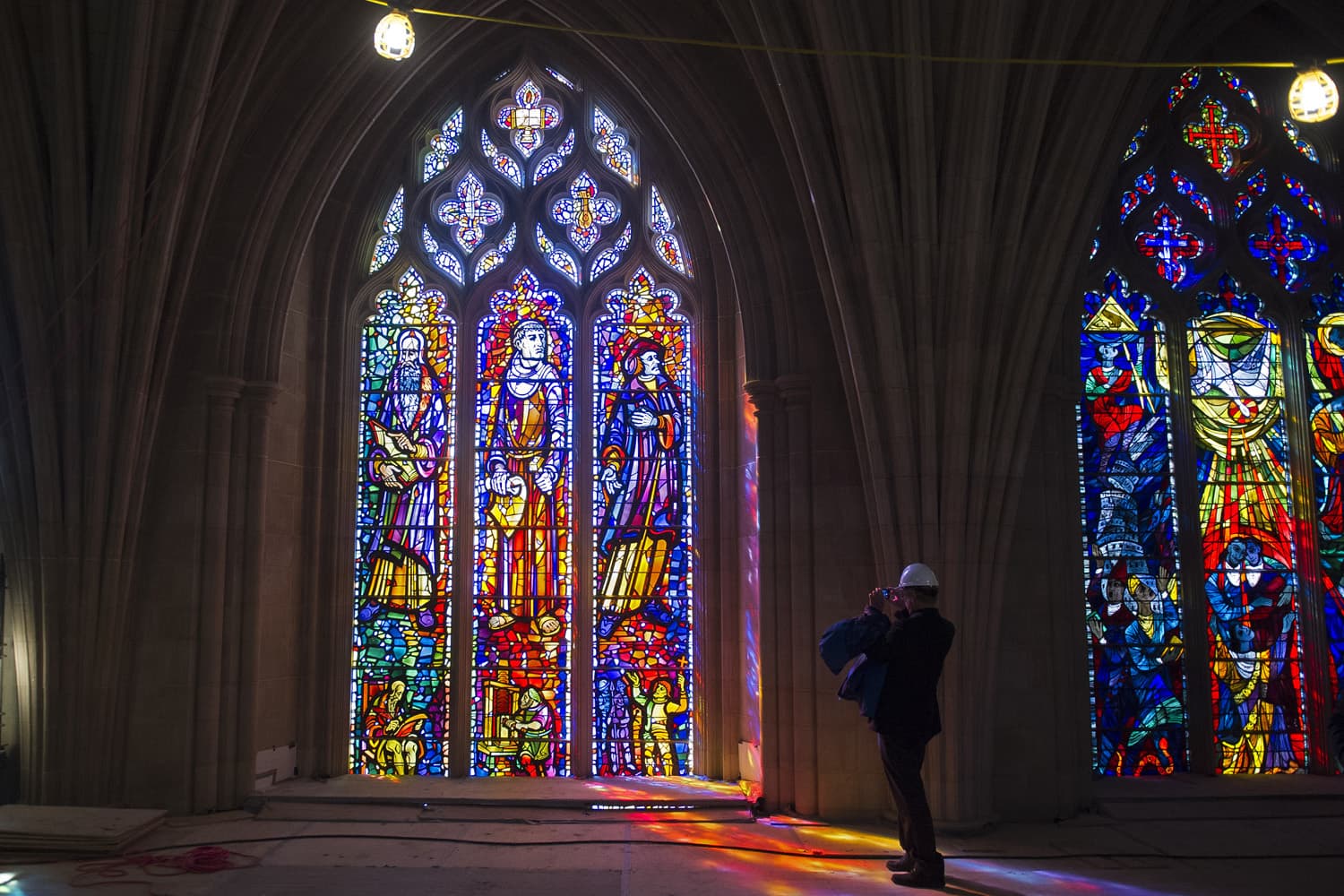 A reporter takes a photograph of a stained glass window at the Washington National Cathedral. (Cliff Owen/AP)
Tax-exempt religious groups could jump both feet into politics under the GOP tax bill with the repeal of the so-called Johnson Amendment. Endorsing, backing, bankrolling candidates. It's a big change — if it happens.
Guests:
Julie Zauzmer, religion reporter for the Washington Post.  (@JulieZauzmer)
Daniel Blomberg, legal counsel for the Becket Fund for Religious Liberty.
Amanda Tyler, lawyer and executive director of the Baptist Joint Committee for Religious Liberty. (@AmandaTylerBJC)
Mark Silk,  Professor of Religion in Public Life at Trinity College and director of the college's Leonard E. Greenberg Center for the Study of Religion in Public Life. (@directorsilk)
From Tom's Reading List:
Washington Post: The Republicans' Tax Bill Would Let Ministers Endorse Political Can... — "The tax bill proposed by House Republicans on Thursday includes a proposal to modify the Johnson Amendment, the 63-year-old law prohibiting politicking by churches that has been a favorite target of conservative Christian groups and of President Trump.
The Republicans' bill would make it legal for ministers and other religious leaders to endorse candidates from the pulpit but stops short of allowing other political participation such as financial contributions from churches to campaigns."
Religion News Service: Killing The Johnson Amendment Is About Lots More Than Religion — "To listen to both sides, the effort to do away with the Johnson Amendment is all about religion. "Pulpit freedom!" cry the proponents. "Religious politicization!" the opponents cry back.
But the hue and cry has obscured the pervasiveness and insidiousness of what's really going on. The tax bill passed by House of Representatives scuttles the Johnson Amendment in a way that would change the landscape for the entire non-profit world."
For more than half a century, American law has explicitly kept tax-exempt religious institutions out of politics.  It's been American bedrock.  You could be religious and tax exempt or be political, but not both.  Last year, candidate Donald Trump vowed to knock down that wall.  Last week, the House GOP tax bill included language to do just that.  Very soon it could be law.  Freedom of the tax-exempt pulpit to go full-on political.  This hour, On Point:  Laying American politics wide open to religion. --Tom Ashbrook
This program aired on November 29, 2017.
http://www.wbur.org/onpoint/2017/11/28/tax-plan-johnson-amendment