'One Of New Zealand's Darkest Days': Shootings At Mosques Kill At Least 49
Updated at 3:50 p.m. ET
A violent attack on two mosques Friday afternoon struck at the very heart of New Zealand, a country that prides itself on being both peaceful and diverse, after a gunman entered two mosques during afternoon prayers, killing at least 49 people.
An additional 42 people are being treated for injuries sustained in the attacks in Christchurch, police said. Two are in critical condition, including a four-year-old.
New Zealand police have charged a 28-year-old man with murder, and have taken two others into custody. A fourth person turned out to have been arrested on an unrelated charge.
"You don't think that something like this could happen in New Zealand," a young woman named Yasmin Ali told reporters. "In Christchurch of all places. We're such a small community. We're so kind and loving, so I just don't understand why someone would hurt us like this."
Most of those killed were worshiping at Al Noor Mosque when the gunman entered, killing at least 41 people. A second shooting at the Linwood Mosque, about 3 miles away, left seven people dead there. And a victim in one of the shootings died at the hospital.
Farid Ahmed told The Guardian he was at Al Noor during the attack and heard the shooter change magazines seven times. "When the shooting started people started rushing out, running out and the door is closed," recalled Ahmed, whose shirt was stained with blood. "There was a bench and I lied down and [hid] my half body under the bench and my legs are out, pretending to stop my breath."
Len Peneha said he lives next door to Al Noor and saw a black-clad man wearing a helmet enter the mosque. The sound of dozens of shots rang out, he told The Associated Press. Peneha said the man ran out, dropping a gun as he fled.
Peneha went inside to try help the victims. "I saw dead people everywhere. There were three in the hallway, at the door leading into the mosque, and people inside the mosque," he told the news service. "I don't understand how anyone could do this to these people, to anyone. It's ridiculous."
A man named Hassan told the Guardian he was worshiping at Linwood mosque when the shooting there started.
He said women around him rose up and screamed, "Do not come here," at the gunman that and some of them charged at the assailant.
"The shooter was screaming a lot and waving the gun in every direction, shooting, shooting, shooting," Hassan said. "I don't know who of my friends is dead or alive now. I am waiting. Police told me: 'I am sorry, this is the first time this has ever happened in this country.' "
Before the shootings, a man who identified himself as a white man from Australia allegedly posted a 74-page, hate-filled screed online, and then live-streamed the killings on Facebook. He has not been publicly identified by officials.
The massacre rocked a small, peaceful nation where such events are extremely rare. Following the attack, New Zealand's national security level was changed from "low" to "high."
Prime Minister Jacinda Ardern described Friday as "one of New Zealand's darkest days." She called the shootings a terrorist attack, one that appeared to have been well planned. With a grim expression, she said the country seems to have been targeted because of its welcoming and tolerance.
"We were not chosen for this act of violence because we condone racism, because we are an enclave for extremism," Ardern said during a news conference in Wellington. "We were chosen for the very fact that we are none of these things. Because we represent diversity, kindness, compassion, a home for those who share our values, refuge for those who need it. And those values, I can assure you, will not, and cannot, be shaken by this attack."
Prior to Friday's attack, the country's deadliest shooting occurred in 1990, when a man killed 13 people following a dispute with a neighbor.
Christchurch is New Zealand's second-largest city, with a population of about 375,000 people. "Our city has changed forever today," Mayor Lianne Dalziel said in a statement. "It is beyond belief that something like this should happen in our city and in New Zealand."
In his screed, the suspected gunman said he had been planning the attack for two years. He claimed to represent Europeans and whites in a battle against immigrants, people he repeatedly described as "invaders." He also referred to the right to bear arms as laid out in the Second Amendment of the U.S. Constitution, and claimed that attempts to take away guns in the U.S. will lead to a civil war.
A front page of New Zealand newspaper The Dominion Post reflected the sense of shock and grief: "End of innocence."
New Zealand's ambassador-designate to the U.S., Rosemary Banks, told NPR that authorities are "convinced this particular event is over."
"We are a very diverse society, we have over 200 ethnicities, 160 languages...we have been very welcoming to outsiders," Banks said Friday. "For these people who are victims in these mosques — they are refugees, they are people who are from our migrant communities who've chosen to live in New Zealand, thinking they would find a safe place where they could be free in their religion and their culture."
The White House released a statement condemning the attacks. "Our thoughts and prayers are with the victims and their families. We stand in solidarity with the people of New Zealand and their government against this vicious act of hate."
The alleged gunman reportedly streamed 17 minutes of the attack on Facebook. The social media platform removed the video and removed the suspect's accounts. The company says it is working directly with the New Zealand Police, the country's national police force, in its investigation. In a statement, according to the AP, Facebook New Zealand spokeswoman Mia Garlick said that the company is "also removing any praise or support for the crime and the shooter or shooters as soon as we're aware."
Twitter and Google, which owns YouTube, say they're working to remove any video of the shootings from their sites, as well. Versions of the video reportedly persisted on the sites for hours after the shootings.
The suspect is expected to appear in Christchurch District Court on Saturday morning local time, according to New Zealand Police.
"You may have chosen us," Ardern said Friday, "but we utterly reject and condemn you."
This is a developing story. Some facts reported by the media may later turn out to be wrong. We will focus on reports from police officials and other authorities, credible news outlets and reporters who are at the scene. We will update as the situation develops.  https://www.npr.org/2019/03/15/703718075/one-of-new-zealand-s-darke...

Week In The News: Border Emergency, Boeing, Brexit, Buying Your Way To College And More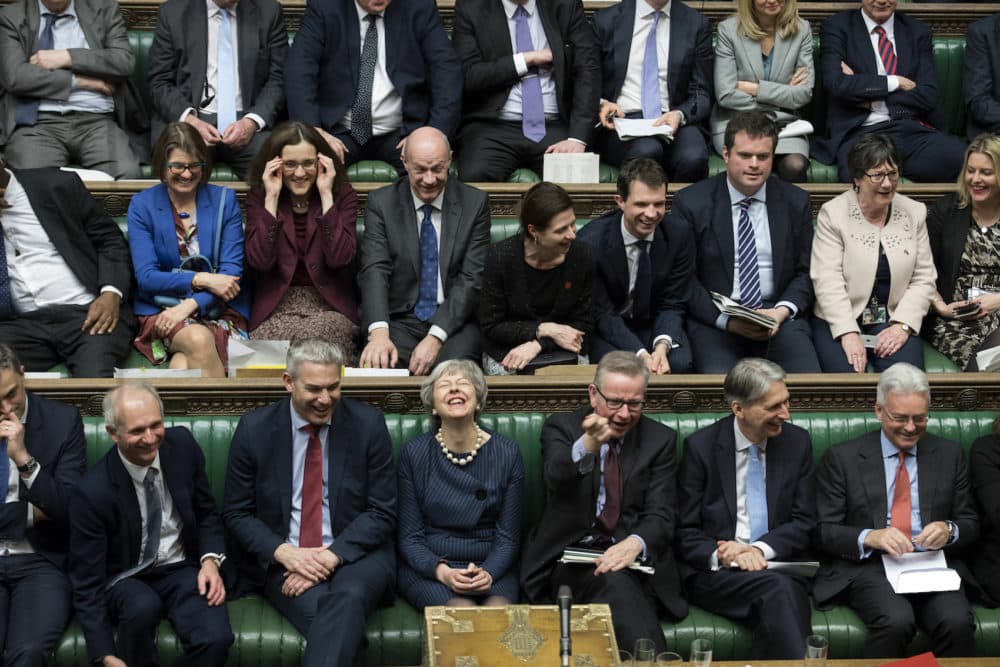 Handout photo issued by UK Parliament of Prime Minister Theresa May during the Brexit debate in the House of Commons, London. (UK Parliament/Jessica Taylor /PA Wire)
With David Folkenflik
Senate rejects Trump's border emergency declaration. Boeing jets. No Brexit deal. The college entrance scam. Pelosi on impeachment. Venezuela in the dark. The roundtable is here.
---
Want more from the show? You can get messages right from our hosts (and more opportunities to engage with the show) sent directly to your inbox with the On Point newsletter. Subscribe here.
---
Guests
Anita Kumar, White House correspondent and associate editor at Politico. ()
Dave Lawler, world news editor at Axios. ()
Jack Beatty, On Point news analyst. ()
From The Reading List
Axios: "U.K. Parliament votes for Brexit delay" — "The U.K. Parliament has passed a motion calling for the March 29 Brexit deadline to be pushed back. The vote was 412-202.
"The backdrop: On Tuesday, Parliament voted down the deal Prime Minister Theresa May reached with the European Union by a huge margin. On Wednesday, it emphatically voted to reject the idea of a 'no deal' Brexit. Now, it has voted to request more time. The EU would have to sign off on that proposal, and while it has strong incentives to avoid a "no deal," leaders are immensely frustrated by the gridlock in Westminster and want to see a clear path forward.
"What's next: May plans to bring her plan up one last time next week, in hopes hardline Brexiteers are so fearful of a delay that they'll back it. If it fails again, a long delay might be needed to settle on a new course. That could mean a cross-party compromise deal. It could also mean a fresh general election — or even a second referendum."
CNN: "Senate passes resolution to overturn Trump's national emergency dec..." — "The Senate delivered a high-profile rebuke to President Donald Trump over his signature agenda issue Thursday when 12 Republicans joined Democrats to overturn the President's national emergency border declaration.
"The vote was 59-41, an overwhelming vote against the President's executive action.
"Lawmakers don't have enough votes, however, to override a certain veto from the President, but passage of the resolution in the Senate after it passed the House last month is nevertheless an embarrassing blow to Trump delivered by his own party over the President's top campaign pledge of a wall at the US-Mexico border."
USA Today: "Power out, water scarce, looting: Venezuela in crisis. Will Trump a..." — "Looting is rampant. Clean water is running low. Mass blackouts continue. And the potential for political violence is ever present.
"That is the quickly deteriorating situation in Venezuela – where Nicolas Maduro clings to his presidency despite massive American and international pressure for his ouster.
"In Washington, top Trump administration officials sharpened their rhetoric and hinted at a more aggressive posture. Democratic lawmakers prepared a proposal that would bar President Donald Trump from any military intervention without congressional authorization – fearing that such a step is in the works and that it would be disastrous."
Tania Ralli produced this hour for broadcast.
This program aired on March 15, 2019. https://www.wbur.org/onpoint/2019/03/15/trump-senate-border-emergen...

US WAR PROPAGANDA OUTLETS
THE UNITED STATES PRESIDENTS AS DICTATORS OF THE WORLD: VENEZUELA
The United States has never had a benevolent relationship with Latin America.  In the early 21st century South American countries truly prospered because under George W. Bush the United States military and CIA were in Middle East and Asia fighting the so-called War on Terror thereby too occupied to interfere and intervene politically in Latin America.  Since the 19th century, the main relationship between the United States and Central and South America has been via gunboat diplomacy.
Ana Felicien, Christina M. Schiavoni, and Liccia Romero write in "The Politics of Food in Venezuela," in the June 2018 Monthly Review (vol. 70, no. 2), tells a different story from the recurring narrative that is promulgated by the Trump administration in its coup prep.
Felicien, Schiavoni, and Romero (FSR) posit that few countries and political processes have been subject to such scrutiny, yet so generally misunderstood, as Venezuela and the Bolivian Revolution.  This is particularly true today, as the international media paints an image of absolute devastation in the country, wrought by failed policies and government mismanagement. 
At the same time, the three national elections of 2017 demonstrated a strong show of support for the continuation of the revolution under its current leadership.  This seeming paradox, we are told, can only be attributed to government tendencies of co-option and clientelism, along with a closing of democratic space.  Such messages are reproduced many times over, both in the media and in certain intellectual circles.
A benefit of the intense attention paid to Venezuela is that a recurring narrative can be identified, which goes basically as follows.  After the death of Chavez in 2013 and the following year global oil prices plunged, Venezuela steadily slid into a state of economic and political disintegration.  Food shortages and other necessities grew scarce, and in turn sparked social unrest as people took to the streets.  The government, headed by Chavez's less charismatic successor, Nicolas Maduro, is going to desperate lengths to hold onto power, becoming increasingly authoritarian in the process, while maintaining the populist rhetoric of Chavez's Bolivian Revolution.
However, FSR declare that this dominant narrative does not capture the complexities of what is happening in Venezuela today.  There are significant holes in the account, which raise important questions: who are "the people" at the center of this analysis?  What, if any, are the different impacts of present challenges on various sectors of society?  How should the Venezuelan state be understood, and where and how does the role of [oil and] capital figure? 
By focusing on the politics of food as a key area in which the country's broader politics are playing out—particularly by looking at recent shortages and food lines, as well as what have been presented as "food riots"--a multitude of issues can be better understood.  Often-ignored matters of race, class, gender, and geography demand special attention.
Historical Continuities of Extraction
FSR declare that a nuanced understanding of contemporary Venezuela requires going back centuries before the Chavez election in 1999 to Spanish colonization from the sixteenth into the nineteenth centuries.  During this period, a "tropical plantation economy based on slave labor" gave rise to a powerful agroexportation complex, through cacao and later coffee were supplied to Europe and Mexico. 
A key feature of this complex was the two-part plantation-conuco system, in which the enslaved and later, low-wage labor forces of the colonial haciendas depended on family and communal plots (conucos) for subsistence.
Venezuela was among the first countries in the region to achieve Independence, but most social and economic structures established under colonization were little altered.  These included patterns of food consumption, extending from the plantation-conuco system to the culinary habits that the colonial elite brought over from Europe.  This dietary differentiation was intricately linked with issues of identity and domination, serving to maintain European descendants' sense of superiority over the indigenous, Afro-descendant, and mestizo majority.
In 1929, the collapse of the U.S. Stock Market spelled the end of the agroexportation period and drove money into the emerging petroleum industry, with oil concessions going mostly to the same wealthy families that had dominated the agro-export complex.  The development of the petroleum sector thus further concentrated wealth among the elite while fostering a "surplus population" of urban poor, but also gave rise to a middle class of professional workers.
In response to these changes, owners of the former agro-export complex were able to take advantage of its existing infrastructure, an influx of oil dollars, and the new purchasing power of Venezuela's emerging middle class to shift from exporting to importing food.  Over time, these practices developed into a powerful agro-food import and distribution complex.
Petroleum broke the plantation-conuco system, rupturing existing patterns of production and consumption.  To fill this void, the government in 1936 initiated an agricultural modernization program, funded by petroleum dollars and designed to replace imports of highly consumed foods in the growing urban centers.  The push for modernization was part and parcel of the Green Revolution then sweep much of the global South, part of an anticommunist Cold War strategy among the United States and allies.
In Venezuela, the process was ushered in by U.S. "missionary capitalist" to Latin America and godfather to the Green Revolution, Nelson Rockefeller.  As the home of Standard Oil's most profitable region affiliate, the country held a special significance for Rockefeller, who made Venezuela his home away from home, even establishing his own hacienda.
GROWTH AND CULTIVATION OF WHITE SUPREMACY
Venezuela's agricultural modernization program melded industrial production and white supremacy, manifested in efforts aimed at blanqueamiento, or "whitening."  This was reflected in the Law of Immigration and Colonization of 1936, which facilitate the entrance of white Europeans into Venezuela, intended, in the words of agricultural minister Alberto Adriani, to help Venezuela "diversify its agriculture; develop new industries and perfect existing ones; and contribute to the improvement of its race and the elevation of its culture."  Towards these ends, the law supported the formation of aptly named Colonias Agricola (agricultural colonies) of European immigrants on some of the country's most productive agricultural land, several of which still exist today.
The modernization agenda also introduced another kind of colonization in the form of Venezuela's first chain of supermarkets, CADA, founded in 1948 and spearheaded by Rockefeller, together with the Venezuelan government.  Further solidifying the connections between food consumption, identity, and social status, supermarkets allowed the emerging middle class to enjoy a taste of food elitism, literally and figuratively. 
This was part of a broader program of modern state-building designed to turn Venezuela into a "reliable US ally with a solid middle-class electorate."  These efforts succeeded, and Venezuela by the late twentieth century was commonly regarded as "one of the developing world's success stories, an oil-rich democracy that was seen as a model for economic growth and political stability in the region."
However "oil never fully transformed Venezuela, but rather it created the illusion of modernity in a country where high levels of inequality persisted."  Indeed, the predominant narratives routinely failed to mention that at the start of the Bolivian Revolution, more than half of the population was living in poverty, with hunger levels higher than those of today.
Power in the Food system: The Maiz-Harina-Arepa Complex
FSR posit that by focusing on what they call the maiz-harina-arepa (corn-flour-arepa) complex, we can trace the history of food politics in Venezuela.
The complex dates back to precolonial times, when corn, inextricably linked with the conucos, figured prominently in indigenous traditions, from cosmologies to food-ways.  With the colonial invasion, the Spanish grain of preference, wheat, together with corn and cassava, another Indigenous staple, helped sustain the Triangle Trade of the colonization project.
Patterns of production, processing, and consumption of corn remained largely unaltered after Independence into the 1960s with the introduction of precooked corn flour, which drove profound changes across the agrifood system.  No less dramatic were changes in the processing of corn for precooked corn flour, in which the kernel is "dehulled, degermed, precooked, dried, flaked, and milled."
In the process, its more nutritious outer layers are removed, yielding a nutritionally poor substance lacking in vitamins and mineral that then requires fortification to meet basic dietary standards, but dramatically reduced preparation time.  The food quickly became the principle staple of Venezuela's poor working class, and within four decades, pre-cooked corn flour came to represent 88 percent of all corn consumed in the country.
Ever since the first commercialization of precooked corn flour one brand, Harina PAN, has become synonymous with the product—to the point that its name is used interchangeably with the generic term harina precocida.  PAN stands for Productos Alimenticios Nacionales, National Food Products, and is homonym of pan bread.  Despite the humble origins portrayed in the company's marketing campaigns, its owners, the Mendoza Fleur family come from a long linage traceable back to the colonial elite, and have held key posts in both government and business for generations.
Today they are among the most powerful families in the country and best known as the owners of Empreasa Polar, the conglomerate that supplies the most widely consumed foods and beverages in Venezuela, particularly arepas and beer.  Polar, a Venezuelan subsidiary of PepsiCo, is the largest private company in the country, with products reaching global markets, and it controls an estimated 50 to 60 percent of Venezuela's supply of precooked corn flour.  On the production side, Polar's Fundacion Danac, with more than 600 proprietary corn varieties, has come to control much of the genetic base of Venezuela's certified corn seeds, influencing research and seed certification.  On the distribution end, Polar is a key shareholders in the Cada supermarket chain, and in 1992 partnered with the Dutch firm SHV to launch Venezuela's largest hypermarket chain, Makro.
SOCIALISM OIL RACE-CLASS FOOD LINES & FAULT LINES
As we have seen [via the media], the Venezuelan food system has long been shaped by the pushes and pulls of capital, society, and the state, in a delicate balance of forces characterized by both deep tensions and deep ties, with repercussions felt throughout everyday life.  The fragility of this balance has come to the fore in recent years, particularly since 2013, with the persistence of long food lines that are by now emblematic of present-day Venezuela, images of which are endlessly reproduced by the international press.
The next set of images to reach international audiences, first in 2014 and much more intensely in 2017, were of "the people" taking to the streets.  The story was one of spontaneous "food riots" that over time combined with more organized "pro-democracy" protests, as part of a global surge of popular uprisings against authoritarian regimes.  The riots, according to the prevailing narrative, were sparked by the lines, which were themselves the result of scarcity brought about by the drop in oil prices, combined with government mismanagement.
This combination of factors has come to mark what is widely regarded as the current crisis of Venezuela's food system, part of a broader political and economic emergency facing the nation.  However, a closer look at the current situation and its defining features provides a fuller and more nuance understanding of events.
First, it is important to look carefully at the food lines: their composition, their location, and what products are being sought.  The people waiting in these lines have overwhelmingly been poor working-class women—an attack on both everyday life at the household level, as well as on the popular organization of the Bolivarian Revolution, in which women have played a key role.
The lines have also largely formed outside supermarkets, where consumers wait to access certain specific items that have mostly gone missing from the shelves.  These consist of the most consumed industrially processed products in the Venezuelan food basket, particularly precooked corn flour.
The specific selection of those missing items—those deemed most essential to the population---tends not to make the headlines, and this points to wider gap in media narratives.  For while precooked corn flour has gone missing, corn-based porridge has remained available; milk powder disappeared from the shelves, but fresh dairy products like cheeses can still be found, and so on.
Several other important factors point to holes in the dominant scarcity narrative [of Trump and the so-called International Community].  First, the same items missing from shelves have continued to be found in restaurants.  Second, by their own accounting, private food companies, including Polar, continued to maintain steady production levels at least through 2015.  In a 2016 interview, in fact, a representative from Polar spoke of the recent addition of new products such as teas and gelatins to their Venezuelan lines.
Third, even before the government mounted a widespread response to the shortages (as described below), corn flour consumption levels among both higher-and-lower-income sectors of the population remained steady from 2012-15.  Thus, while the shortages have undoubtedly caused tremendous anxiety and insecurity, and while accessing certain goods has become more time-consuming and complicated, Venezuelans have indeed found ways to obtain them.
In addition to lines, another channel has been the underground economy, though which goods such as corn flour are sold at a steep markup by individuals and private enterprise have done so as well, both by hoarding goods for speculative purposes and by smuggling the across the Colombian border, [smuggling which Maduro has emphasized].  The regular discovery of stockpiles further suggests that goods have been intentionally diverted from supermarket shelves.
There are direct parallels between present-day Venezuela and Chile in the 1970s under Salvador Allende, where the U.S. Strategy, in the words of Richard Nixon, was to "make the economy scream."  The United States employed the same methods of destabilization, including a financial blockade, and supported the right-wing counterrevolution, likewise manifested in shortages, lines, and street protests, among other forms of disruption.
The depressed prices of Chile's main source of foreign exchange, copper, parallels declining oil prices in Venezuela.  While the extent of U.S. Involvement in Chile's counterrevolution would not be fully understood until years later, when key documents were declassified, overt U.S. aggression toward Venezuela is already evident in the intensifying economic sanctions imposed by the Obama and Trump administrations, as well as an all-out economic blockade that has made it extremely difficult for the government to make payments on food imports and manage its debt.  As one State Department representative put it:
"The pressure campaign is working.  The financial sanctions we have placed on the Venezuelan Government has forced it to begin becoming in default, both on sovereign and PDVSA, its oil company's debt.  And what we are seeing because of the bad choices of the Maduro regime is a total economic collapse in Venezuela.  So our policy is working, our strategy is working and we're going to keep it on the Venezuelans."
In Venezuela today, as in Chile in the 1970s, U.S. Intervention relies on an ongoing counterrevolutionary effort, with elites using the revolutionary potential of the masses to frighten the middle class.  This brings us to another key feature of the present conjuncture: the class dynamics of the street protests, characterized as "food riots" in the dominant narrative, particularly in the latest and most intense round in 2017.  While the food lines began to appear in 2013, they grew over time, and are widely considered a key factor in the transfer of control of the National Assembly from the chavistas to the opposition majority under the Democratic Unity Roundtable (MUD) at the end of 2015.
An array of demonstrations ensued, from peaceful resistance to acts of violence.  Though portrayed in the media as nationwide, the actions were largely limited to the wealthiest areas of a few cities, and ranged from street barricades and vandalism to picnics and barbecues to candlelight vigils to physical assaults to the hurling of "poopootoves" human feces.
But among this seemingly disparate set of tactics, protesters took precise aim on certain fronts, including a systematic attack on state-run social programs, such as the burning of buses providing subsidized public transportation and vandalism of public health facilities.
Especially hard hit was the state agrifood apparatus, as the National Institute of Nutrition was set ablaze, laboratories for the production of ecological farming inputs were vandalized, and supplies destined for government food programs were burned—including one on the order 40 tons of food—along with vehicles associated with these programs.
Also among the targets tragically were people, specifically those seen as typical chavistas—i.e., poor and brown-skinned.  The most visible of these was the attack on Orlando Figuera, a young Afro-Venezuelan supermarket worker, whose gruesome burning alive, as countless onlookers did nothing to intervene, was capture on video. 
While Figuera did not survive his attack, another victim from a similar background Carlos Ramirez, did survive, albeit with severe burns covering his body.  Ramirez later recalled pleading for his life, shouting "Don't kill me! I'm not chavista! Please don't kill me!" as street protesters brutally eat him and set him ablaze.
The racial motivations of these attacks associated with violent street protests, known as guarimbas, are apparent, and speak to what has been described as a "class/race fusion" with "deep roots in the country's history."  The protesters are mostly the grandchildren of the middle class that emerged in the period of modernization and "whitening," with important links to the country's elite forming a middle class-elite alliance known as sifrinaje. 
The international media has largely ignored these nuances, but a rare and telling exception is a 2017 article in Bloomberg Businessweek on nightlife among young protesters, whose gathering spots include upscale rooftop shisha bars, with one protester quoted as saying, "You protest in the morning, but that doesn't mean you stop living."
While the protesters are not homogeneous, those featured in the article challenge the narratives of repressed masses, while also highlighting the differentiated impacts of the protests, as some maintain their everyday lives in relative comfort, while others struggle to survive.
END OF PART ONE