Do not fear those who kill the body and after this are not able to do anything more.  But I will indicate to you whom to fear: Fear him who after killing has authority to throw into Gehenna.  Yes, I will tell you, fear this One.  Five sparrows sell for two coins of small value, do they not?  Yet not one of them goes forgotten before God.  But even the hairs of your heads are all numbered.  Have no fear; you are worth more than many sparrows.
Luke 12:4-7
The only fear we have to fear; is fear itself.
President Franklin Delano Roosevelt
REPUBLICAN "FRIENDS" FEAR OF THE LOSING MIDTERM 2018
Someone once said, "I you want a friend in D.C., get a dog."  Bob Woodward makes this clear in Fear: Trump in the White House (2018).  Woodard also indicates that the only fear the American people have to fear is Donald J. Trump's administrations and its fear of him in the White House.  This is demonstrated as a palimpsest by the leaks that come out of the White House via the media.
Woodward wrote in his Notes to Readers: Interviews for this book were conducted under the journalist ground rule of "deep background."  This means that all the information could be used but I would not say who provided it.  The book is drawn from hundreds of hours of interviews with first hand participants and witnesses to these events.  Nearly all allowed me to tape-record our interviews so the story could be told with more precision.  When I have attributed exact quotations, thoughts or conclusions to the participants, that information comes from the person, a colleague with direct knowledge, or from meeting notes, personal diaries, files and government or personal documents.
President Trump declined to be interviewed for this book.
TRUMP'S GOP "FRIENDS"
Woodward writes that in February, General Dunford stopped by the office of Senator Lindsey Graham, the South Carolina Republican, for a private talk.  Probable few in the Senate worked harder on military matters than Graham.  Graham, 61, a senior member of the Senate Armed Services Committee, was best friend and virtual permanent sidekick to the committee's chairman, Senator John McCain.
Dunford was shaken.  Trump was asking for a new war plan for a preemptive military strike on North Korea, Dunford confided.  But the intelligence on North Korea was not good enough, Dunford said.  "We need better intelligence before I give the president a plan."
A marine and combat veteran and former commandant of the Marine Corps, Dunford had served as commander of the 5th Marine regiment during the 2003 invasion of Iraq.  "Fighting Joe" had served under then Major General James Mattis.  He was clearly rattled by trump's impulsive decision-making style.  Graham sensed that Dunford was stalling Trump's request given the risk.
Graham had a contentious relationship with Trump during the primaries.  One of 16 besides Trump running for the Republican nomination, Graham had not made the cut.  He'd called Trump a "jackass," and in retaliation Trump gave out his cell phone number at a campaign rally in South Carolina, flooding his phone with so many calls that Graham destroyed it in a comic video.  He endorsed Jeb Bush, contrasting him to Trump:  Bush "hadn't tried to get ahead in a contested primary by throwing dangerous rhetoric around."
Reince Priebus urged Graham to build a relationship with trump.  One of the selling points, he told Graham: "You're a lot of fun.  He needs fun people around him."
Graham was pounding Trump pretty hard, especially on the first executive order, on the Muslim Ban.  "Some third grader wrote it on the back of an envelope," he said.
Graham and McCain had released a joint statement: "We fear this executive order will become a self-inflicted wound in the fight against terrorism.  This executive order sends a signal, intended or not, that America does not want Muslims coming into our country.  That is why we fear this executive order may do more to help terrorist recruitment than improve our security."
Graham was now willing to put the past behind.
On March 7, Trump invited Graham to lunch at the White House.  Graham had prepared a little speech.
When he walked into the Oval Office, Trump was sitting behind the Resolute Desk.  He jumped up, moved swiftly toward Graham, and gave him a gig hug.  "We've got to be friends," Trump said "You're going to be my friend."
"Yes, sir," Graham replied.  "I want to be your friend."
On December 10, 2017, trump and Senator Graham played golf at the Trump International Golf Club in West Palm Beach.  In a tweet Graham said the golf course was "spectacular," a comment sure to please Trump.  It was nothing compared to the praise Graham lavished on Trump during their round.
"You're a very good commander in chief," he told Trump.  The president was listening to his military commanders and the changes in the rules of engagement in the Middle East and Afghanistan were paying off.
This was Graham's pitch to Trump:  "You can do something nobody else did.  You're cleaning up the mess that Obama left you.  You're doing a damn good job of cleaning it up.  You're rebuilding the military.  You're taking a wet blanket off the economy.  You're really unshackling the military and the economy.  God bless you for undoing the damage done in the last eight years.  Where do you want to go?  What do you want to be your legacy?  Your legacy is not just undoing what he did, but its putting your stamp on history."
Trump seemed to love the adulation but said to Graham, "You're a middle-of-the-road guy.  I want you to be 100 percent for Trump."
This resembled the loyalty pledge that then FBI director James Comey said that Trump had asked of him.  According to Comey Trump had said, "I need loyalty.  I expect loyalty," during their now famous one-on-one Green room dinner in the White House during the first week of the Trump presidency.
"Okay, what's the issue?  Graham asked, "and I'll tell you whether I'm 100 percent for you or not."
"You're like 82 percent," Trump said.
Well, some days I'm 100 percent.  Some days I may be zero."
I want you to be a 100 percent guy."
Why would you want me to tell you you're right when I think you're wrong?  What good does that do for you or me?"  Graham asked.  "Presidents need people that can tell them the truth as they see it.  It's up to you to see if I'm full of shit."
DACA, SHIT-HOLE-COUNTRIES & CHAIN MIGRATION & BUILD A WALL
On December 29, 2017, Trump had tweeted his position on DACA:  "The Democrats have been told, and fully understand, that there can be no DACA without the desperately needed WALL at the Southern border and an END to the horrible chain Migration... We must protect our Country at all cost!"
The president called a meeting in the Cabinet Room with 20 senators and House members to discuss an immigration plan for the Dreamers.  Trump directed that the Tuesday, January 9, meeting be televised, all 55 minutes.  He was in full performance mode, promising legislation.  "Truly, it should be a bill of love, and we can do that."
The president was engaging and fun.  Graham was astounded at Trump' apparent shift on one of the most polarizing issues before them.  The anti-immigration hard-liners would be aghast.  Trump had once been their leader.  Graham hoped that this was the president at his deal-making best.
Graham had never felt better about Trump's ability to get an immigration deal done.  The headlines reinforced Graham's optimism.  The New York Times: "Trump Appears to endorse Path to Citizenship for Millions of Immigrants."  The Washington Post: "At the table: Trump tried to negotiate and prove stability."
The next day Trump phoned Graham.
"I thought you were masterful," Graham said.  "Don't let all these people"--Republican hard-liners--"scare you away.  You're on track here.  This is the guy that I try to tell people about when we play golf.  This is the Donald Trump that I'm all-in for.  Only you can do it.  Bush tried.  Obama couldn't do it.  You can do this."
To Graham's surprise, Trump put Melania, the first lady, on the phone.
Afterwards, Trump asked, "Can we change the libel laws?" Rapidly shifting the tenor of the conversation to one of his pet peeves.
"No," graham, the lawyer, said.
"Why?"
"We are not England, Graham said, "where the libel laws were stricter."
US first lady to be paid damages and legal costs under $3m having sued UK paper's owner over claims she 'provided services beyond simply modelling'
Decision Delayed To Friday In CNN Suit Over White House Revoking Acosta's Press Pass
2:50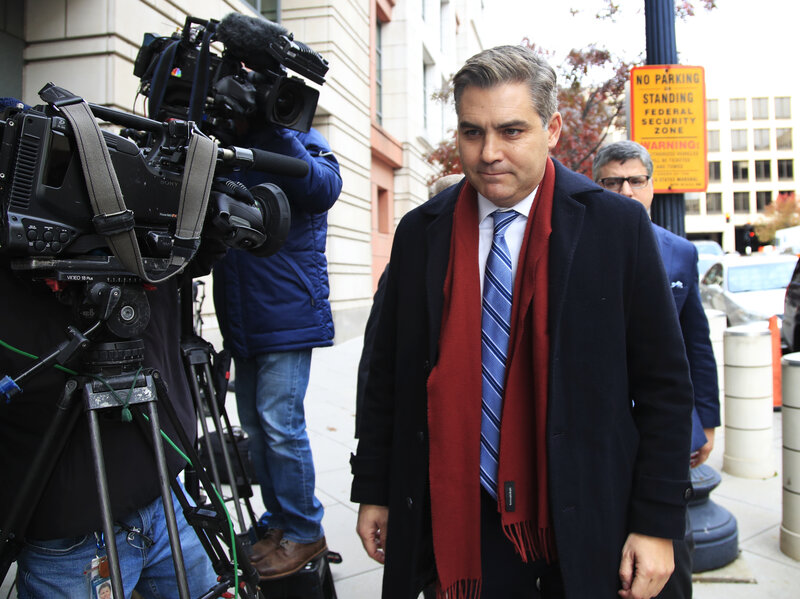 A federal judge in Washington, D.C., delayed his decision until Friday morning on CNN's lawsuit seeking immediate restoration of chief White House correspondent Jim Acosta's press pass.
A decision was expected Thursday afternoon.
Earlier this week, CNN sued President Trump and other White House officials, contending that they acted unconstitutionally when they stripped Acosta of his press credentials, known as a "hard pass." The network is seeking a temporary restraining order while the case plays out.
Judge Timothy Kelly, a Trump appointee, heard two hours of argument late Wednesday.
Judge Kelly did not tip his hand during the argument. He did, however, repeatedly suggest that because Trump has long attacked CNN — calling its coverage "fake news" — Acosta was stripped of his credentials not because Trump dislikes his coverage but for some other reason — namely that Acosta had refused to sit down when told to and been rude at Trump's post-midterm news conference on Nov. 7.
CNN's lawyer Theodore Boutrous Jr. replied that it was the president who was the "most aggressive" and "rudest" person in the room on Nov. 7. He added that if asking follow-up questions or challenging the president are grounds for having a press pass taken away, at least 10 other reporters would have lost their credentials, too.
What is CNN's position on the allegation that Acosta put his hands on an intern to keep her from taking the microphone? Judge Kelly asked.
"That is false," replied Boutrous, as is demonstrated by the fact that the Trump administration has now "abandoned" that claim in its legal filings.
The judge then asked why it matters that they have abandoned the claim.
Boutrous replied that the shifting justifications "destroy the White House's credibility" as to why the press pass was withdrawn.
There's "no argument here" that Acosta is any danger to the president, Boutrous said, adding that Trump "didn't have to call" on him at the news conference. Indeed, the White House "could have turned off his mic," he said.
Arguing on behalf of the administration, Deputy Assistant Attorney General James Burnham contended that the president has broad discretion to strip any reporter of White House press credentials if he wishes. Nobody would argue that the president can't select which reporters he will grant interviews to, said Burnham, and a news conference is just "an interview with 100 people."
Is it the White House's position, Judge Kelly asked, that the president would be entitled to say, "We don't like your reporting, so we are pulling your press pass"?
"Yes," replied Burnham.
Moreover, he observed that CNN has 50 other reporters who have White House passes.
What specifically is your justification for revoking Acosta's press pass, Judge Kelly asked.
Burnham answered that the standard is whether the reporter was "disorderly," or "rude" or "grandstanding." Pressed by the judge, however, Burnham conceded that he knew of no other case in which a president had stripped a reporter of his White House credentials.
The judge pursued the matter further, asking how he should consider the unprecedented nature of the decision. After all, he observed, [former ABC White House correspondent] Sam Donaldson and plenty of other "contentious" reporters have refused to sit down.
Burnham replied that it is not "fair" to compare presidents on how they handle the media. One president can handle things one way, while another president can handle things differently, he said.
After Burnham sat down, CNN lawyer Boutrous, in rebuttal, called the Trump administration's views on the First Amendment "warped." There's no First Amendment doctrine that says, "Because there are lots of other reporters you can ban one," he argued. Maybe that's "the one reporter who will break ... a story wide open."
As to the standard set forth by the president's lawyers — that the "president believes" a reporter has been "disorderly," Boutrous said, "That is no standard" because it gives the president "standard-less discretion."
Judge Kelly observed that looking at the video of the news conference in question makes it very clear that Trump is trying to move on to the next question and questioner.
Presidents frequently do that, replied Boutrous, and reporters just as frequently try to force an answer, he said.
Democracy is sometimes "unpleasant" but having a free press is one of the ways democracies hold governments accountable, Boutrous said.
Acosta came to courthouse for the argument, and joining Boutrous in representing CNN and Acosta was former Solicitor General Ted Olson, who served under President George W. Bush.  https://www.npr.org/2018/11/15/668045729/decision-expected-thursday...
TRUMP'S CONGRESSIONAL COLLEAGUES
On December 30 2017, Senator Dick Durban, the number-two Democrat in the Senate, called Graham.
"I just got off the phone with Trump," said Durban, who had joined Graham in the efforts for a compromise on immigration.  "He likes what we did.  He wants you and me to come down."
So Graham and Durban showed up at the White House, thinking they would meet alone with Trump.  Instead there was a group of anti-immigrant senators, congressmen and staffers, including John F. Kelly and Stephen Miller.  Graham thought it looked like a lynch mob lined up on chairs in the Oval Office.
Graham began walking through the plan, which included the money Trump had asked for on border security.
It was not enough, Trump said condescending.
Graham said he was sure they could do more but this was where they had started.  And he mentioned 25,000 visas from mostly African countries.  He turned to the visas for places such as Haiti and El Salvador because of earthquakes, famine and violence.
"Haitians," Trump said.  "We don't need more Haitians."  At that and the mention of immigrants from African countries, Trump said, "Why are we having all these people from shithole countries come here?"  He had just met with the prime minister of Norway.  Why not more Norwegians?  Or Asians who could help the economy?
Durban was sickened.  Graham was floored.
"Some of us are from shit-hole-countries," Graham replied.
Melania Trump; born Melanija Knavs; [mɛˈlaːnija ˈknaːu̯s], Germanised to Melania Knauss; born April 26, 1970) is a Slovenian-American former fashion model and, as wife of the 45th U.S. President Donald Trump, the current First Lady of the United States.[2]
Melanija Knavs was born in Novo Mesto, and grew up in Sevnica, in the Yugoslav republic of Slovenia.[3] She worked as a fashion model through agencies in Milan and Paris, later moving to New York City in 1996.[4] Her modeling career was associated with Irene Marie Models and Trump Model Management.[5]
In 2001, Knavs became a permanent resident of the United States.[6] She married Donald Trump in 2005 and obtained U.S. citizenship in 2006. She is the second American First Lady born outside the United States,[7] the first naturalized U.S. citizen to become First Lady[8] and the second Catholic First Lady.[9][10]
Two days later, Saturday, Trump called Graham, who thought Trump was calling to take his temperature.  How mad was he?
Trump said he was playing golf at his club in West Palm Beach.
"Well, it 'em good," Graham said.
"I didn't say some of the things that he [Durban who had went public and Graham backed up] said I said," Trump said.
"Yeah, you did," Graham insisted.
"Well, some people like what I said."
"I'm not one of them," Graham said.  "I want to help you.  I like playing golf with you.  But if that's the price of admission count me out.  Good luck.  Hit 'em good."
With Steve Bannon out of the White House, Stephen Miller was the driving force behind the White House's hardline DACA policy.  On January 21, Graham attacked Miller publicly.  "As long as Stephen Miller is in charge of negotiating immigration, we are going nowhere.  He's been an outlier for years.  I've talked to the president—his heart is right on this issue.  He's got a good understanding of what will sell, and every time we have a proposal it is only yanked back by staff members."
END OF PART ONE