"Trump could send a tweet in the middle of the night pissing off Kim Jong Un. And the next morning we wake up to a world on the brink of war," one seasoned diplomat told BuzzFeed News.
That observation came before Trump's latest bellicose rhetoric, and the sense of alarm in European governments can only have increased in the last 24 hours. On Tuesday evening, Trump warned North Korea would be "met with fire and fury like the world has never seen" if it continued to threaten the US. His comments have already prompted Kim Jong Un's regime to ratchet up its own threats, announcing that it was considering a preemptive missile strike on the US Pacific territory of Guam. On Wednesday morning, Trump tweeted that the US nuclear arsenal is now "far stronger and more powerful than ever before...."
Trump's foreign policy is chiefly driven by an obsession with unraveling Barack Obama's policies. "It's his only real position," one European diplomat said. "He will ask: 'Did Obama approve this?' And if the answer is affirmative, he will say: 'We don't.' He won't even want to listen to the arguments or have a debate. He is obsessed with Obama."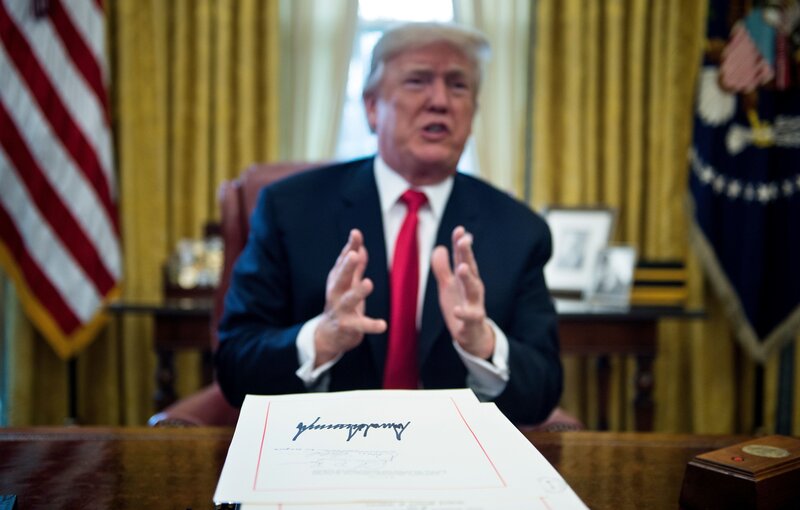 Updated at 11:02 p.m. ET
When President Trump signed the $1.5 trillion tax cut bill on Friday at the White House, he made a bold claim — that his "legislative approvals" were off the charts. "No. 1 in the history of our country," he said, citing 88 as the number of bills he had signed into law.
The actual number of laws Trump signed this year is 96. His claim of historic achievement isn't accurate, either.
But that didn't stop him from repeating the erroneous claim Wednesday during a visit with firefighters in West Palm Beach, Fla.
"We have signed more legislation than anybody," Trump said.
He hasn't. In sheer numbers of bills signed into law during a president's first year in office (Jan. 20-Dec. 31), Trump is behind his six most recent predecessors.
According to tallies by GovTrack, Trump also trails Nixon, Kennedy and Eisenhower.
In making his claim, Trump also boasted that he had exceeded even former President Harry S. Truman's record for the number of bills signed.
"Harry Truman had more legislative approvals than any other president and — a record long held," Trump said. "And we beat him on legislative approvals, for which I get no credit."
One reason he may not be getting credit is that, according to a rough estimate from the Truman Library, Trump isn't even close to Truman's record.
Three White House spokespersons did not respond to a request from NPR to explain which record Trump was referring to, given that he trailed so many of his predecessors in the number of bills signed into law.
In any case, tallying laws signed is not necessarily a good way to measure accomplishment.
Political scientists say a far better — though more subjective — measure is significance, because not all bills are created equal. For instance, "S 810: A bill to facilitate construction of a bridge on certain property in Christian County, Missouri, and for other purposes" isn't in the same realm of significance as "HR 3364: Countering America's Adversaries Through Sanctions Act."
NPR analyzed all 96 laws signed by Trump this year, categorizing them. More than three dozen modify or extend existing law; 16 repeal rules and regulations using a process known as the Congressional Review Act; a dozen commemorate or honor people and organizations such as by renaming federal buildings; and seven provide temporary government funding or one-time disaster relief funds.
"This tax bill is a big deal," said John Frendreis, professor of political science at Loyola University Chicago. "But I don't think anybody would regard anything else that has come down the line as a significant legislative achievement."
The 96 Laws Trump Has Signed
Takes action needed every year/basic maintenance governing (2)
Implements new policy (3)
Temporarily funds government, provides one-time disaster relief (7)
Repeals rules and regulations (16)
These resolutions were passed through a previously obscure process known as the Congressional Review Act, which requires only a simple majority for passage in the Senate. Because these measures can't be filibustered in the Senate, they've been an easy way for Republicans, even with only a narrow Senate majority, to reverse Obama-era regulations that hadn't yet taken effect.
Encourages an agency or the president to try something new (13)
Reauthorizes or modifies existing programs/law (37)
Names something/sites a memorial/encourages flag-flying/makes a statement (12)
Relates to personnel (6)
Legislative links and text via GovTrack https://www.npr.org/2017/12/27/573546883/trump-signed-96-laws-in-20...