First Amendment: Religion and Expression
What is the First Amendment?
Congress shall make no law respecting an establishment of religion, or prohibiting the free exercise thereof; or abridging the freedom of speech, or of the press; or the right of the people peaceably to assemble, and to petition the Government for a redress of grievances.
The First Amendment Defined:
The First Amendment is a part of the Bill of Rights, which are the first 10 Amendments to the United States Constitution and the framework to elucidate upon the freedoms of the individual. The Bill of Rights were proposed and sent to the states by the first session of the First Congress. They were later ratified on December 15, 1791.
The first 10 Amendments to the United States Constitution were introduced by James Madison as a series of legislative articles and came into effect as Constitutional Amendments following the process of ratification by three-fourths of the States on December 15, 1791.
Stipulations of the 1st Amendment:
The First Amendment to the United States Constitution prohibits the passing or creation of any law which establishes a religious body and directly impedes an individual's right to practice whichever religion they see fit.
The First Amendment to the United States Constitution is a part of the Bill of Rights and the amendment which disables an entity or individual from practicing or enforcing a religious viewpoint which infringes on the freedom of speech, the right peaceable assemble, the freedom of the press, or which prohibits the petitioning for a governmental evaluation of grievances.
In its infancy, the First Amendment only applied to laws enacted by Congress; however, the following Gitlow v. New York, the Supreme Court developed that the Due Process Clause attached to the Fourteenth Amendment applies the fundamental aspects of the First Amendment to each individual state, including all local governments within those states.
The Establishment clause of the First Amendment is the primary pronouncement in the Amendment, stating that Congress cannot institute a law to establish a national religion for the preference of the U.S. government states that one religion does not favor another. As a result, the Establishment Clause effectively created a wall of separation between the church and state.  http://constitution.laws.com/1st-amendment
Trump's Immigration Order Is 'Un-American,' Rep. Carson Says
5:11
Steve Inskeep talks to Democratic Rep. Andre Carson of Indiana, who is Muslim, and who has condemned the order barring refugees and limiting visitors from seven predominately Muslim countries. http://www.npr.org/2017/01/31/512592683/trumps-immigration-order-is...
Protests, Confusion For Executive Order On Refugees
this broadcast is a part of the #OnPoint100 Day Spotlight.
The huge uproar over refugees, American borders and national security policy-making under Donald Trump.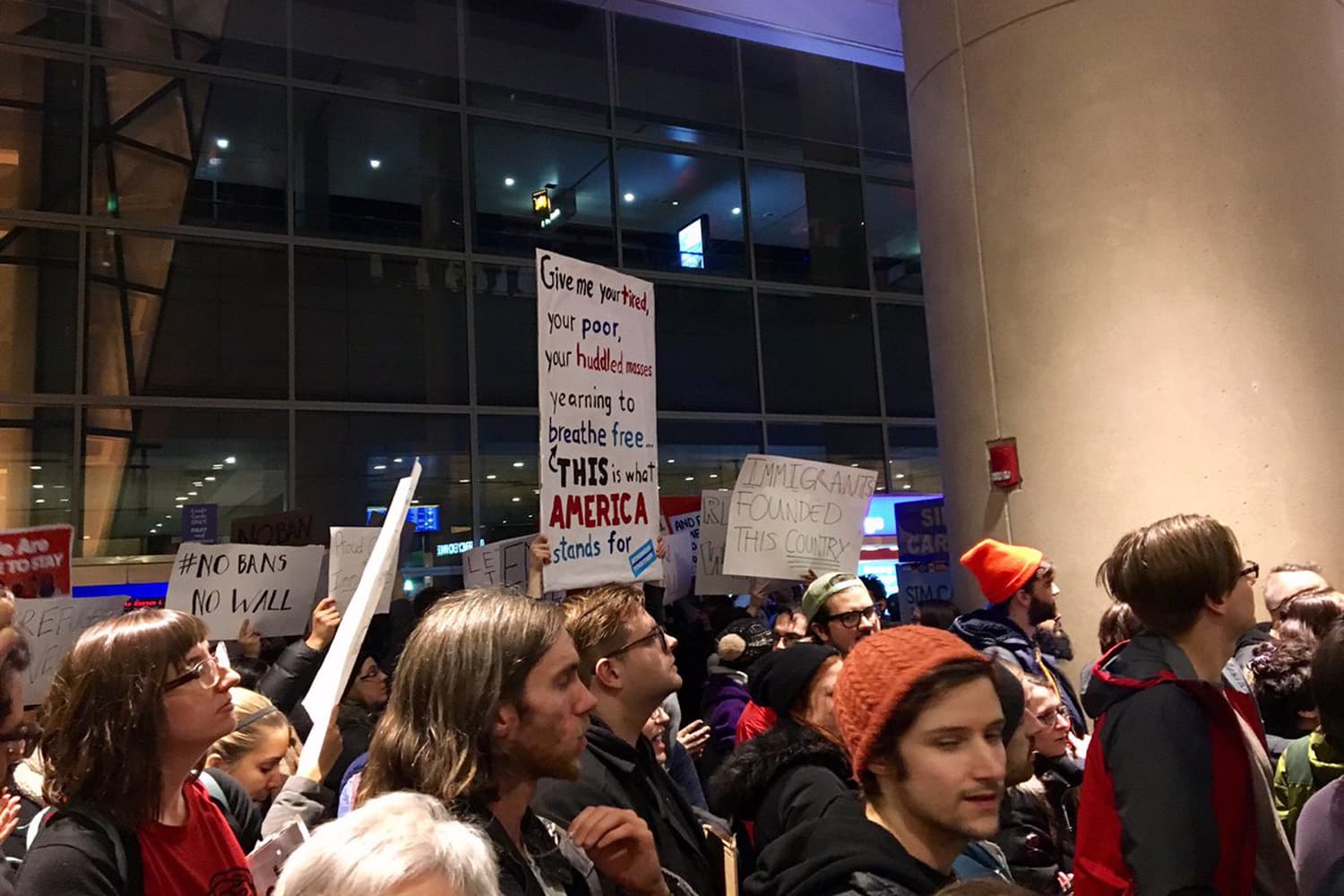 Protesters gathered at Logan Airport's Terminal E Saturday night and early Sunday morning in opposition to President Trump's executive order on immigration. (Shannon Dooling/WBUR)
Not 10 days in to the Trump administration and it was uproar again this weekend. This time over refugees, American borders and the making of national security policy under Donald Trump. With the stroke of a pen, the president stopped all refugees coming in. Singled out seven Muslim-majority nations. Put Steve Bannon in the inner circle of the National Security Council. This hour in our On Point 100-Day Spotlight, American security, American values, and President Trump. — Tom Ashbrook
Guests
Nicholas Kulish, reporter and correspondent for the New York Times. (@nkulish)
David French, writer at the National Review. (@DavidAFrench)
Ian Lustik, professor of comparative politics and political science at the University of Pennsylvania. Author of "Trapped in the War on Terror."
From Tom's Reading List
New York Times: Judge Blocks Trump Order on Refugees Amid Chaos and Outcry Worldwide — "A federal judge in Brooklyn came to the aid of scores of refugees and others who were trapped at airports across the United States on Saturday after an executive order signed by President Trump, which sought to keep many foreigners from entering the country, led to chaotic scenes across the globe."
National Review: Trump's Executive Order on Refugees — Separating Fact from Hysteria -- "So, what did Trump do? Did he implement his promised Muslim ban? No, far from it. He backed down dramatically from his campaign promises and instead signed an executive order dominated mainly by moderate refugee restrictions and temporary provisions aimed directly at limiting immigration from jihadist conflict zones."
Washington Post: Amid protests and confusion, Trump defends executive order: 'This... — "President Trump's executive order temporarily prohibiting entry into the United States for migrants from seven mostly Muslim countries and refugees from around the world fueled confusion, angst and a wave of protests across the country Sunday."
Countries Impacted By The Executive Order
-Syria
-Iran
-Iraq
-Sudan
-Yemen
-Somalia
-Libya
(via NPR News. See NPR News for a list of official responses from each of the impa....)
U.S. Businesses Rebuke Trump Over Immigration Ban
1:55
DONALD TRUMP TRAMPING ON CIVIL LIBERTIES
ANNE-MARIE SLAUGHTER
https://www.princeton.edu/~ppns/
Anne-Marie Slaughter and Co-Director and John Ikenberry, Co-Directors of Forging A World Of Liberty Under Law: U.S. National Security In The 21st Century Final Report of the Princeton Project on National Security (September 27, 2006) laid out plan to secure the United States in the age of terrorism.  One conclusion reached is that is often overlooked, is the reaction that terrorists provoke—which can lead to exponentially more destabilizing outcomes than the terrorist violence itself.  One observer has drawn a paralleled to anarchist groups in in the late 19th and early 20th centuries.  They only killed a couple of thousand people over several decades, but one of their victims was Archduke Franz Ferdinand.  That assassination provided the spark that remade the world.  It is thus not only the number of deaths that matters but also the terrorist; ability to dictate the global agenda.
What these global terrorists are not is warriors, except in their minds.  Countering them by wagging a highly publicized war on terror plays into their preferred conception of an apocalyptic struggle between good and evil.  Accepting the labels that our enemies use to describe themselves lends them legitimacy that is not deserved.  To take one example, Muqtda al-Sadr named his private militia the Mhadi Army.  Sunnis and Shiites agree that "Mahdi" is the equivalent of a Messiah, so when U.S. officials refer to the Mahdi Army they confer status upon al-Sadr's gang.
A smarter counter-terrorism strategy would remind people around the world at every opportunity that al Qaeda [ISIS] and other global networks are criminal enterprises run by people who are no better than gangsters.  They may be criminals with a cause, but they are still criminals—the plotters, aiders, abettors, and perpetrators of deliberate mass murder of innocents.
We must also be wary of equating terrorists with Islamic fundamentalist, jihadis, Islamists, or even Salafists or Taqfiris.  Each of these categories includes many non-violent practicing Muslims—just as some violent Christians or Jewish sects are fundamentalists, but the vast majority of Christian or Jewish fundamentalists are not violent.  Pushing into contentious religious territory to borrow various terms for sub-groups or apostates is precisely to wade into the realm of religious war that we seek to avoid.  Since 9/11 the Bush administration has sought to convince ordinary pious Muslims around the world that America seeks no quarrel with them.  The best way to start is to take Islam itself out of the equation.
Forging a world of liberty under law is a long-term strategy to defeat global terrorist networks; in such a world it would be much harder for specific grievances and fanatical ideologies to take root and grow into global violence.  To this end, we and the European liberal democracies must ensure that Muslims see themselves as real stakeholders in our societies.  More immediately, however, we must fight existing global terrorist networks through a combination of the tactics we use against global criminal networks and against insurgencies.  That means developing a global counterinsurgency strategy that builds on a global law enforcement capacity and the more traditional tools used to fight insurgencies…..
This represents only a smidgen of the advice that The Princeton Project On National Security offered in Forging A World Of Liberty Under Law.  President Barack Obama used it as a guide in his national security plans; thus for the most part keeping America safe.  For his efforts he was demonized by the likes of Donald Trump and his entourage.
However, President Trump has a means of redeeming himself and his shortsightedness by allowing ISIS to win the moral battle of wits.  If he continues his ban on Muslims entering the United States, he will be the best recruiter that ISIS has ever employed.