U.S. Congressman Adam Schiff speaks to Jane Clayson in the WBUR studios about Trump's wiretap claims, Jeff Sessions, and national security on March 6, 2017. (Jesse Costa/WBUR)
President Trump fired off a tweetstorm this weekend. He said President Obama wiretapped his phones at Trump Tower. A shocking charge. So far, unsubstantiated. Didn't happen, says the FBI and the former Director of National Intelligence. We'll unpack it with Congressman Adam Schiff, ranking Democrat on the House Intelligence Committee. This hour On Point, wiretaps, Jeff Sessions and the latest firestorm from the White House.
"Of course my first reaction was astonishment, shock. I think that was probably the prevalent reaction around the country. Most people have correctly observed that if the President's accurate about this, that it would mean one of two things, that either a federal judge had concluded there was probable cause to believe that either he or his associates were engaged in a crime. Or, from the counterintelligence point of view, that he or his organization were agents of a foreign power. Neither of those, obviously, would reflect positively on the President.
But I think there's a more likely explanation, which is every bit as troubling to me, and that is that this is a president who cannot separate fact from fantasy, and when it comes to his Constitutional obligations as commander in chief, doesn't know the difference between right and wrong, and in the long wrong, that may be the far more significant problem than either of these hypotheses."
"I would recommend that we do things in addition to the investigations going on in the House and Senate intelligence committee, and one of them is the appointment of independent consul. I held off on that conclusion until I felt that certain facts warranted a decision by the Justice Department about whether to prosecute individuals. I think the facts with respect to Mike Flynn have reached the point where the Justice Department is going to have to evaluate, should he be prosecuted for his conduct? I don't think that decision can be made by the attorney general, and his very partial recusal wouldn't appear to cover Flynn because that conduct took place, at least part of it, after the campaign was over. So I think an independent consul can and should look into that. Perhaps the charge of the independent counsel should be broader than that.
But I also think probably, the more significant step Congress could take would be the formation of an independent commission like we had after 9/11. That would be truly outside the political realm, I think it would have the greatest level of credibility with the American people, but it would be staffed appropriately to do this kind of investigation."
"I think his partial recusal is inadequate. If you hold the Attorney General to the same standard he held witnesses when he was voting on their confirmation, he would be calling on them to step down after misleading them the way he did the Senate. So I think he should step down. He hasn't met his own standards, but beyond that, because this Russia issue so suffuses the whole administration, I think that it's impossible for him to oversee even part of this investigation."
"It certainly feels like I have come full circle because at that time, we were not only prosecuting an FBI agent for espionage, but I was working with other agents in the FBI to make the case, and to look at what the Russians did, how they operated, what they were after, and a lot of those questions are coming back now."
"One of the most important purposes of this investigation is we need to know fully what the Russians did. We need to know that so we can inoculate ourselves in the future and I hope in any future campaign where we see the Russians engaging to try to help one side or the other, that both political parties condemn it. That we expose it and that we condemn it.
But more than that, right now Europe is under assault by some of the same tactics Russians used here, and, indeed, Russians have used these tactics in Europe before they used them in the United States. The great shock to us was they would have the unmitigated temerity to use them here in the United states, but yes we need to use this information to protect our allies and protect the whole idea of liberal democracy."
"Absolutely. One of the most important conclusions that the intelligence community reached in that report that was published is, what the Russians did to us, they will do it again. We have every right to be concerned about attacks by Russia on our democracy, but we have also very much to be concerned with Russia remaking the map of Europe by dent of military force as they did in Ukraine, and as they have done elsewhere, and, if they're not pushed back hard, as they will do again."
Trump, without offering evidence, tweeted Saturday that President Obama "wire tapped" Trump Tower before the election. Steve Inskeep talks to Sen. Angus King, a member of the intelligence committee. http://www.npr.org/2017/03/06/518766306/senate-will-investigate-wir...
Psychiatric organization warns members: don't analyze Trump
By Jessie Hellmann - 08/07/16 03:27 PM EDT
© Getty Images
Don't call presidential candidates mentally ill, the American Psychiatric Association told its members this week. 
Following a bad week for Donald Trump, in which he insulted a Gold Star family and declined to endorse Speaker Paul Ryan (R-Wis.) for reelection before doing it anyway on Friday, many have started to question whether Trump has a personality disorder. 
"We're asking ourselves — I didn't say this, but this is what everybody is saying — is Donald Trump a sociopath?" MSNBC host Joe Scarborough asked earlier this week. 
And a California Democrat Wednesday launched a change.org petition calling for Trump to undergo a mental health evaluation, suggesting he may have a narcissistic personality disorder. More than 25,000 have signed it as of Sunday.
While the APA can't tell politicians and the media how to act, it is encouraging its members not to offer opinions on someone they haven't personally evaluated.
Called the Goldwater Rule, psychiatrists may share with the public their expertise on psychiatric issues in general, but it's considered unethical to offer an opinion unless they've conducted an examination and have been given permission to talk about it. 
"Simply put, breaking the Goldwater Rule is irresponsible, potentially stigmatizing, and definitely unethical," Maria Oquendo told members this week. 
"Every four years, the United States goes through a protracted elections process for the highest office in the land. This year, the election seems like anything but a normal contest, that has at times devolved into outright vitriol," she wrote.
"The unique atmosphere of this year's election cycle may lead some to want to psychoanalyze the candidates, but to do so would not only be unethical, it would be irresponsible." http://thehill.com/blogs/ballot-box/presidential-races/290690-psych...
TRUMP: NARCISSISM--HITLERISM & FASCISM
Laurence Lafore in The End Of Glory: An Interpretation Of The Origins Of World War II (1970) declare whatever Hitlerism was, it was most conspicuously and most eminently Hitler.  His odd genius and odd limitations were alike symptoms of a personality that was certainly psychopathic.  Most of his leading associates--a malevolent cripple, an elephantine one-time drug addict who dressed up in costumes, a sadist, a paranoiac--were also obviously unsavory and abnormal.  Some large adjustment of imagination is needed to understand why the Germans confided their nation to such leaders.  This puzzle has been subject to the attentions of learned men [and women] who have elaborated cosmic explanations of the most portentous sort.  The whole history of Germany was, for a long while, seen as a sort of road leading toward Hitler.   This telic view of history, natural enough, not only violated the most elementary of historical purposes, to recreate the past with something like fidelity, but defeated its own purposes by making it seem that anything in German history, from the second century A.D. onward, that did not actually contribute to Hitler's rise to power was either transient or insignificant.  When the past is studied as "background" to something in the present, it is usually misinterpreted and always distorted.
Any reasonable explanation of the Nazi success must be plural.  There were, undoubtedly ancient and deep traits in German culture and society that predisposed Germans to submit to arbitrary authority, believe lies, flourish in a state of over-organization, and tolerate or admire the use of force whether on the majestic scale of national armies or the small but effective scale of brutality by gangs.  There are these traits in any society.  In Germany they may have been stronger, and they certainly existed in a particularly explosive combination. 
HOPE & DISAPPOINTMENT
Keeping Hitlerism in mind, I will make a slight digression.  President Trump in his presentation by before Congress mention our only democratic ally in the Middle East, Israel.  Historian Robert Dallek in The Lost Peace: Leadership In A Time Of Horror And Hope, 1945-1953 (2010) writes that his book about the generation of leaders in the years of upheaval between the close of World War II and the early Cold War is not a comprehensive history about why and how the Cold war began.  Rather, it is an attempt to underscore the misjudgments and unwise actions that caused so much continuing strife and suffering, and suggest alternatives that might have made for greater international harmony.  Moreover, the fact that men and women gain governing power--whether by democratic elections or extra-constitutional means--is no guarantee of wise leadership.
Dallek writes that no foreign policy issue more directly influenced the election [of 1948] than Harry Truman's decision to give prompt recognition to the state of Israel in May 1948.  It is true that significant political considerations entered into the president's decision, and they so angered Secretary of State Marshall [of the Marshall Plan]--who, like others in the State Department, believed that less overt backing for Israel was in American's best interest--that he never spoke again to Clark Clifford, "a hard-nosed political operator who had few qualms about cutting political corners to win an election," who pushed recognition as essential to winning the Jewish vote for the president's election.
For Truman, who accepted the political necessity of overtly supporting the new Jewish state, there was nothing untoward about doing so: not only would it help him politically, but he believed it was the right and realistic policy.  He fully accepted the moral claims for a Jewish homeland in Palestine, and Clifford convinced him that Israel would come into existence with or without American's immediate backing.
When the chief rabbi of Israel told Truman during a visit to the White House, "God put you in your mother's womb so you would be the instrument to bring the rebirth of Israel after two thousand years," Truman cried.  Such are the fictions by which men sometimes take comfort from their actions.  Neither the rabbi nor the president reflected on the potential for continuing violence created by the irreconcilable differences between Israelis and Palestinians over land and survival in the Holy Land.
According to historian Andrew J. Bacevich in America's War For The Greater Middle East: A Military History (2016) developments during the Obama era made the "peace process" held out the theoretical prospect of comprehensive reconciliation between Israel and its Arab neighbors, thereby putting to rest antagonism triggered by the founding of the Jewish state in 1948.  As long as both parties in the US-Israeli relationship sustained the pretense of being committed to "peace," Washington's unstinting support for Israel, providing it with diplomatic cover along with enormous quantities of arms, remained minimally controversial.
Meanwhile, periodic punitive actions against Palestinians that inflicted causalities wildly out of proportion with the ostensible provocation--"mowing the lawn," in Israeli parlance--suggested a preference for the calculable effects of collective punishment over the uncertainties of negotiation.  In the spring of 2015, running for reelection, Israeli Prime Minister Benjamin Netanyahu all but made it official.  Declaring the two-state solution "unachievable," he vowed that none would exist as long as he remained in office.  Israeli voters duly awarded him another term.
Meanwhile, periodic punitive actions against Palestinians that inflicted causalities wildly out of proportion with the ostensible provocation—"mowing the lawn," in Israeli parlance—suggested a preference for the calculable effects of collective punishment over the uncertainties of negotiation.  In the spring of 2015, running for reelection, Israeli Prime Minister Benjamin Netanyahu all but made it official.  Declaring the two-state solution "unachievable," he vowed that none would exist as long as he remained in office.  Israeli voters duly awarded him another term.
USA Today ran a story on January 4, 2017, stating that Israeli police investigators question Prime Minister Benjamin Netanyahu for more than three hours over suspicions that he accepted gifts from wealthy supporters.  Corruption allegations have plagued the Israeli prime minister throughout all his terms in office.
GOD--RACE & STATUS
President Trump chose February 28 in order to silence and endear himself to two "race" birds at one setting: African Americans and Jews, that I have discuss above.  America still has a "race" problem that has its roots in the 17th century.  However, with Trump's hand-picked Attorney General Jeff Sessions statement that he liked the Ku Klux Klan until he found out that its members in Alabama smoked marijuana, I have turned to Philip Jenkins' in The Great And Holy War: How World War I Became A Religious Crusade (2014) discrimination on the America ideas of the merger of the cosmic and racial conflict.
Jenkins posits that the United States than entered WWI in 1917 needed no instruction in doctrines of sacrifice and blood, honor and redemption.  Quite apart from the events of the war itself, the years between 1915 and 1920 saw a vicious spike in racial conflict, marked by lynching, ethnic violence, and extraordinary blood-soaked rhetoric of white supremacy.  Some groups were prepared to defend these values to the death.  In 1915, D. W. Griffith's Birth of a Nation depicted the rescue of the white South after federally imposed Reconstruction--or the act of redemption, as it was often described.  The film led directly to the re-formation of the Ku Klux Klan, [now morphed into the Alt-White Movement].  The new Klan used/use an array of symbols and uniforms, together with a framework of hierarchies and initiation that fitted well with Europe's contemporary occult sects.  Underlying the pageantry was a ferocious commitment to defending racial and national honor by means of savage violence, in defense of their Aryan birthright.  Blood must be shed for blood, and blood was the path to salvation--personal, communal and national.
We can argue about the long-term significance of such esoteric groups, and conspiracy theorists through the years have certainly exaggerated the role of German sects like the Thule Society in shaping Hitler's vision.  At most, they provided a style and rhetoric, rather than political substance.  But they illustrate once again the racial and political dimensions of cosmic visions of the war, [then and now].
Believers of many kinds expected the struggle of 1914 to be qualitatively different from any previous conflict in history and likely to initiate an apocalyptic era.  To achieve such a goal, they were willing to see the civilized world suffer a massive act of blood atonement and sacrificial death.  Where they were wrong, of course was in the speed of the imminent judgment, which was still not in sight at the end of 1916.  In the New Year though, the war entered a more intense and still more violent phase.   The year 1917 would usher in new prophecies: it would be marked by the fall of kings and by battles in the Holy Land itself.
Trump Signs Revised Order Banning Arrivals From 6 Majority-Muslim Countries
3:05
President Trump has signed a revised executive order temporarily banning refugees and visitors from six mostly Muslim countries. NPR reports on how this differs from the original order that was blocked in court. http://www.npr.org/2017/03/06/518858238/trump-signs-revised-order-b...

AMERICAN CONSPIRITORS

Caller: 'The President Has No Plan For My Generation'
03:15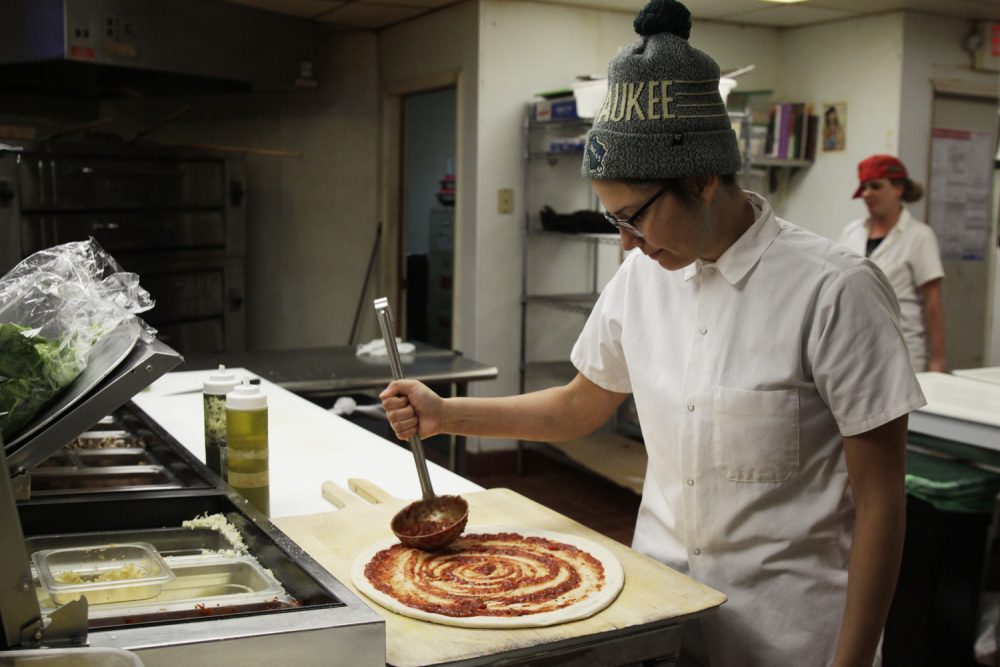 In this Jan. 9, 2017, photo, Andrea Ledesma spreads sauce on pizza dough at Classic Slice restaurant in Milwaukee. (Carrie Antlfinger/AP)
If you've noticed anything about this program during your time tuning in, you've probably noticed how important our callers are to the overall feel of our broadcast. This is perhaps made the most clear in our Friday Week in the News roundtable discussions, where the topics come fast and furious — and so do your calls. 
Today, during our busy discussion, caller Sarah from Brooklyn had a few words to say about how she sees the Trump Administration "ignoring" her generation. And our guest, USA Today Washington bureau chief Susan Page, agreed with her.
---
TOM: Sarah in Brooklyn, NY, Sarah thank you for calling. You're on the air.
SARAH: Thank you Tom. I am calling because I wanted to mention something I don't hear anyone else talking about. And that is that it feels the President has no plan for my generation, which is the millennials. Everything he is trying to appeal to is, sure it's great that our parents can have coal mining jobs again, I mean we don't love that, you know, but what is going to happen with the things that we want to do? I feel like we don't have a seat at the table.
TOM: What do you want to hear him talking about that you don't think he is?
SARAH: I work in technology in New York, in a tech company and we have Republicans too here that come from other states. We kind of have a consensus. Just because we are millennials, we are the same generation. We want to talk about the environment. We are going to have to deal with the consequences of all of these policies. We're the real consequence bearers and we just don't have a seat at the table. Baby Boomers still have a grip on everything. I feel like we need to start a Super PAC to get the baby boomers out.
TOM: Sarah, but the president says he wants the gleaming future, all new infrastructure, gleaming American Future. That would be for millennials I guess. Sarah?
SARAH: No not the way, the kind of stuff that he is talking about. It's not technologically advanced. He's talking about tunnels and bridges.
TOM: And coal.
SARAH: We're trying to cut down on driving.
TOM: Sarah, I really appreciate your call. Millennial power there, the flag raised from Brooklyn. I mean Susan Page, we saw these interesting headlines this week. Sarah goes to environmental issues. And the reporting from out of the White House that Steve Bannon is pushing to take the US out of the Paris Climate agreement. The big agreement that was supposed to get us on track not to feel the worst effects of climate change, but that you've got Rex Tillerson, former head of Exxon for heaven's sakes and Ivanka Trump pushing back on that. What do we know about where that stands and what might actually emerge, Susan?
SUSAN: We know that President Trump has not followed through on his campaign promise to pull out of that agreement and that's been interesting because he's followed through on a series of other campaign promises including some controversial ones. But let me just congratulate Sarah on her perception. Because if you want to look at the war between baby boomers and millennials, look at the budget priorities that President Trump outlined on Monday. He said he wasn't going to touch Medicare and Social Security. Those are the biggest drivers of the federal budget, the biggest drivers of the expanding deficit and those are programs that of course, help people who are older, help baby boomers. And he's going to cut in big ways programs like, not just environmental programs, although they're included, but also education programs and childcare programs and school lunch programs and these are programs that of course help millennials and younger people. There is a big age divide and it fits with the divide among his own supporters because President Trump's supporters, his supporters were disproportionally older, he did not do nearly as well among millennials.
TOM: We're looking at a week in the news. I'm Tom Ashbrook. This is On Point. http://www.wbur.org/onpoint/2017/03/03/caller-trump-millennials
This story aired on March 3, 2017.
Michael Moore Wants To Channel Trump Voter Regret Into Political Opposition
5:07
March 6, 2017
5:12 AM ET
Rachel Martin talks to filmmaker Michael Moore, who says disappointed voters need to call their members of Congress, take part in protests and think about running for local office themselves.  http://www.npr.org/2017/03/06/518743034/filmmaker-michael-moores-gu...