Archbishop Accuses Pope Francis Of Helping Cover Up Abuse Allegations
In an explosive letter, the Vatican's former ambassador to the United States, Archbishop Carlo Viganò, accused Pope Francis of knowing about sexual abuse allegations against former Cardinal Theodore McCarrick and that he helped cover them up.
Here & Now's Peter O'Dowd discusses the letter and the allegations with the National Catholic Reporter's Vatican correspondent Joshua J. McElwee ().
This segment aired on August 27, 2018.  http://www.wbur.org/hereandnow/2018/08/27/letter-claims-pope-franci...

Who is Carlo Maria Vigano, the man accusing Pope Francis of covering up sex abuse?
The Roman Catholic Church went into crisis mode this week after a Vatican official published an 11-page letter alleging that Pope Francis and U.S. Catholic leaders covered up sexual abuse by an American cardinal.
In the unusually detailed and direct letter, Archbishop Carlo Maria Vigano, the former Vatican ambassador to the U.S., made unsubstantiated claims that Francis and several American cardinals and archbishops had teamed up over the years to protect Theodore McCarrick, who as a cardinal was one of the most powerful figures in the church.
Vigano, who released the letter as the pope was visiting Ireland, blamed church leaders for protecting a widespread "homosexual current" in the Vatican and said Francis must resign. He also said church leaders had a "pro-gay ideology" that ran counter to long-standing church prohibitions against homosexual acts.
But church experts say the letter's significance may be less about those allegations than about power struggles within the church hierarchy.
Francis has set a more liberal tone by meeting with gay people and expressing more tolerance for homosexuality than any pope in history, though still hewing to the church's prohibition on same-sex marriage. Vigano, who was the Vatican's ambassador to the U.S. until 2016, is part of a more conservative wing of the church that has protested Francis' leadership, especially on issues of sexuality.
"This letter has everything to do with factions in the church that are vying for power and influence," said Massimo Faggioli, a professor of theology at Villanova University who studies the Vatican. "You have a convergence of interests that is making this a huge mess in the U.S. Catholic Church."
Vigano's long and intimate access to the inner workings of the papacy makes the letter difficult for the pope to brush aside.
Born into a rich Italian family, Vigano eventually became an archbishop in 1992 at the behest of Pope John Paul II. From there, he ascended the church's ranks, becoming a diplomat for the Vatican, the secretary of the governorate of Vatican City and the Vatican's ambassador to the U.S.
But throughout his rise, he clashed with church officials — including Pope Benedict XVI and Francis — over whether Vatican leaders were supportive of him, his attempts to change church governance and his views of homosexuality in the church.
He has said that by not cracking down on homosexuality within the church, the leadership has contributed to the problem of pedophile priests — a contention that is roundly disputed by liberal Catholic leaders and victims' advocates who say sexual orientation has no bearing on whether somebody commits abuse.
In widely publicized leaked church documents in 2012, Vigano was shown appealing to church leadership to discredit anonymously sourced articles in the Italian press criticizing his performance and role in the Vatican. The documents — dubbed VatiLeaks — showed that the leaders refused to defend him.
The documents also showed that Vigano was desperate to not be transferred to the diplomatic position in Washington and protested to his superiors, including Benedict's second-in-command, Cardinal Tarcisio Bertone.
Vigano said in the leaked letters that he was being punished for uncovering corruption in the Vatican. Bertone is among the church leaders Vigano named in his recent letter as co-conspirators in Vatican cover-ups.
In 2015, when Francis visited Washington, Philadelphia and New York, Vigano played a key role in one of the most controversial moments of the trip.
He arranged for the pope — who had until then received widely positive news coverage for saying it was not his place to judge gay people — to meet Kim Davis, a Kentucky county clerk who had become embroiled in national controversy over her refusal to give marriage certificates to gay couples. Vatican insiders said the pope, who shook hands and took photographs with many people during his visit, did not fully understand who Davis was when he posed with her at the ambassador's residence.
The incident, which overtook otherwise glowing reports on the pope's U.S. visit, was blamed internally on Vigano and said to be one of the reasons Francis did not ask him to stay in his post upon reaching the retirement age of 75. Catholic officials frequently stay in posts beyond retirement age at the request of the pope.
In his letter released over the weekend, Vigano wrote that Francis and Benedict were aware of sexual abuse by McCarrick, the former cardinal who led churches in the Washington region from 2001 to 2006.
McCarrick resigned in July and was stripped of his title of cardinal after U.S. news outlets reported that he had abused seminarians. Vigano also said that other Catholic figures, including Cardinal Donald Wuerl, the archbishop of Washington, were aware of the abuse.
Wuerl said through a spokesman that he was never told that the Vatican had barred McCarrick from celebrating Mass.
Reaction to the letter varied.
In a statement released Monday, Cardinal Daniel DiNardo, the president of the U.S. Conference of Catholic Bishops, said the allegations must be investigated.
"The questions raised deserve answers that are conclusive and based on evidence," DiNardo, the archbishop of Galveston-Houston, said. "Without those answers, innocent men may be tainted by false accusation and the guilty may be left to repeat sins of the past."
Also named in the letter was Cardinal Joseph Tobin of Newark, N.J., who said in a statement that the allegations had "factual errors, innuendo and fearful ideology." Tobin said there needed to be "scrutiny of the claims" to "help establish the truth."
Archbishop Charles Chaput of Philadelphia, a leader among conservative Catholics, issued a statement praising Vigano's "integrity" but said he could not comment on the letter because it had details "beyond his personal experience."
Bishop Joseph Strickland of the Diocese of Tyler, Texas, went further. In a letter to church members, he said that the details in Vigano's letter "are still allegations but as your shepherd I find them to be credible."
Though the U.S. church indicated it will investigate, it's unclear what the Vatican will do.
When asked about the allegations after he departed Ireland on Sunday, Francis refused to address them.
Joshua Green in Devil's Bargain: Steve Bannon, Donald Trump, And The Storming Of The Presidency (2017) reveals who is behind the plot against Pope Francis and why.  In Chapter 3, "Bildungsroman," Green writes that Steve Bannon was born into a blue-collar, Irish-Catholic family of Democrats in 1953, within sight of the naval base in Norfolk, Virginia.  He was the third of five children born to Martin Bannon, a telephone linesman, and his wife, Doris, a homemaker.  Soon afterward, the family moved to a leafy neighborhood in North Richmond, Virginia.
Bannon's upbringing was steeped in traditionalism at every turn: at church, at school, and at home, in the working-class identity forged by his parents' Democratic politics.  In 1953, the South was still solidly Democratic, and Virginia was dominated by the Byrd Organization, the political machine led by former governor and U.S. Senator Harry F. Byrd, Sr., a conservative Democrat bent upon stopping the advance of the civil rights movement.  Although the Byrd machine was well into its decline by the time Bannon was growing up, and never had the same strength in urban centers such as Richmond that it did in rural areas, it still shaped the tenor of the local politics.  Yet the Bannons, like many conservative Irish-Catholic families, were captivated by a different Democrat, John F. Kennedy.  "We were Kennedy freaks," said Chris Bannon, Steve's younger brother.  "My dad knocked on doors for Kennedy.  Every Irish kid thinks he wants to be Jack Kennedy right?"
Their parents' views and infatuation with Kennedy filtered down to the Bannon children less as a politics than as a class identity and self-conception.
Martin and Doris Bannon were serious Roman Catholics who insisted that the family attend Sunday Mass, and they sent all three of their sons to Benedictine, the private Roman Catholic military academy in Richmond.  As the Roman Catholic Church took steps to modernize after the Vatican II reforms of 1962-1965, the Bannons were drawn in the opposite direction, toward a deeper connection with Church tradition and the mysteries and beauties of its ancient rituals.  After Pope John Paul II permitted limited use of the Latin-only Tridentine Mass, which was banned by the Second Vatican Council, the elder Bannons became Tridentine Catholics.  "When the Roman Catholic Church first started allowing it in the mid-eighties," Steve Bannon recalled, "we left our parish that we'd been in for years and went and joined St. Joseph's in Richmond which offers a Tridentine Mass."
By the time he graduated from high school in 1972, the Byrd machine had withered, but Benedictine stood as a bulwark against a liberalizing world.  "We were a right-wing military Catholic high school," said John Pudner, a childhood friend of the Bannons who grew up two blocks away and attended Benedictine.  "We were very small, just four hundred kids at a time.  It was a very close-knit community."
Bannon received an education steeped in classics and history.  The Benedictine curriculum was traditional Western civilization presented in a context of Catholicism.  "We were all taught that Western civilization was saved five hundred years ago in Spain, when Ferdinand and Isabella defeated the Moors," said Pudner.  "The lesson was, here's where Muslims could have taken over the world.  And here was the great stand where they were stopped.  We were taught a worldview: 'this is how Catholicism survived.' I think that shaped all of us.  But what Steve took away, I think, was a belief that you've got to be willing to identify the threat.  When we were growing up, the threat was the atheist, communist Soviet Union.  Now Muslims are trying to blow us up."
Bannon was also taken with the much larger idea, imparted at Benedictine, that Western civilization had to be constantly and vigilantly defended against shadowy, shape-shifting enemies, and he was prone to viewing contemporary struggles, even minor one, as critical junctures of historical significance.  This fed a grandiose image of himself as someone galloping to defend not just a class but Western civilization itself.
BANNON AGAINST THE MODERN WORLD
Although these videos appear as duplicates, they are not because language is everything.  In Chapter 10, Burn Everything Down, Green brings up the salient point of Bannon's belief in "Traditionalism."  By this time, Bannon had been hired by billionaire Robert Mercer and his daughter Rebekah as the campaign manager along with Kellyanne Conway and David Bossie all involved in a Super PAC that was aiding Trump, replaced Paul Manafort.
By now, Bannon's term for his politics, and Trump's--"nationalism"-- was already in wide circulation in the political press.  But the term's meaning was and remains confusing and has never been fully explicated.  While Trump's embrace of "America first" nationalism was chiefly due to its resonance as a campaign slogan, Bannon's attraction to it had a far deeper and more complicated lineage.
From an early age, Bannon was influenced by his family's distinctly traditionalist Catholicism and tended to view current events against the broad sweep of history.  Though hardly a moralizing social conservative, he objected bitterly to the secular liberalism encroaching upon the culture.  "We shouldn't be running a victory lap every time some sort of traditional value gets undercut," he said in 2015.  While he was still in the Navy, Bannon, a voracious autodidact, embarked upon what he described as "systematic study of the world's religions" that he carried on for more than a decade.  Taking up the Roman Catholic history first instilled in him at Benedictine, his Catholic military high-school, he moved on to Christian mysticism and from there to Eastern metaphysics.  (In the Navy, he briefly practiced Zen Buddhism before wending his way back to Tridentine Catholicism).
Bannon's reading eventually led him to work of Rene Guenon, an early-twentieth-century French occultist and meta-physician who was raised a Roman catholic, practiced Freemasonry, and later became a Sufi Muslim.  There are many forms of traditionalism in religion and philosophy.   Guenon developed a philosophy often referred to as "Traditionalism" (capital "T"), a form of anti-modernism with precise connotations.  Guenon was a "primordial" Traditionalist, a believer in the idea that certain ancient religions, including the Hindu Vedanta, Sufism, and medieval Catholicism, were repositories of common spiritual truths, revealed in the earliest age of the world, that were being wiped out by the rise of secular modernity in the West.  What Guenon hoped for, he wrote in 1924, was to "restore to the West an appropriate traditional civilization."
Guenon, like Bannon, was drawn to a sweeping, apocalyptic view of history that identified two events as marking the beginning of the spiritual decline of the West: the destruction of the order of the Knights Templar in 1314 and the Peace of Westphalia in 1648.  Also like Bannon, Guenon was fascinated by the Hindu concept of cyclical time and believed that the West was passing through the fourth and final era, known as the Kali Yuga, a six-thousand-year "dark age" when tradition is wholly forgotten.
The common themes of the collapse of Western civilization and the loss of the transcendent in books such as Guenon's The Crisis of the Modern World (1927) and Julius Evola's (who by 1938, had struck an alliance with Benito Mussolini, and his ideas become the basis of Fascist racial theory; later, after he soured on Mussolini, Evola's ideas gained currency in Nazi Germany), Revolt Against the Modern World (1934) are what drew Bannon's interest to Traditionalism (although he was also very much taken with its spiritual aspects, citing Guenon's 1925 book, Man and His Becoming According to the Vedanta, as "a life-changing discovery").
Bannon, more synthesist than adherent, brought to Guenon's Traditionalism a strong dose of Catholic social thought, in particular the concept of "subsidiarity": Quadragesimo anno, that political matters should devolve to the lowest, least centralized authority that can responsibly handle them—a concept that, in a U.S. Political context, mirrors small-government conservatism.
Historian Yuval Harari's 21 Issues Facing The 21st Century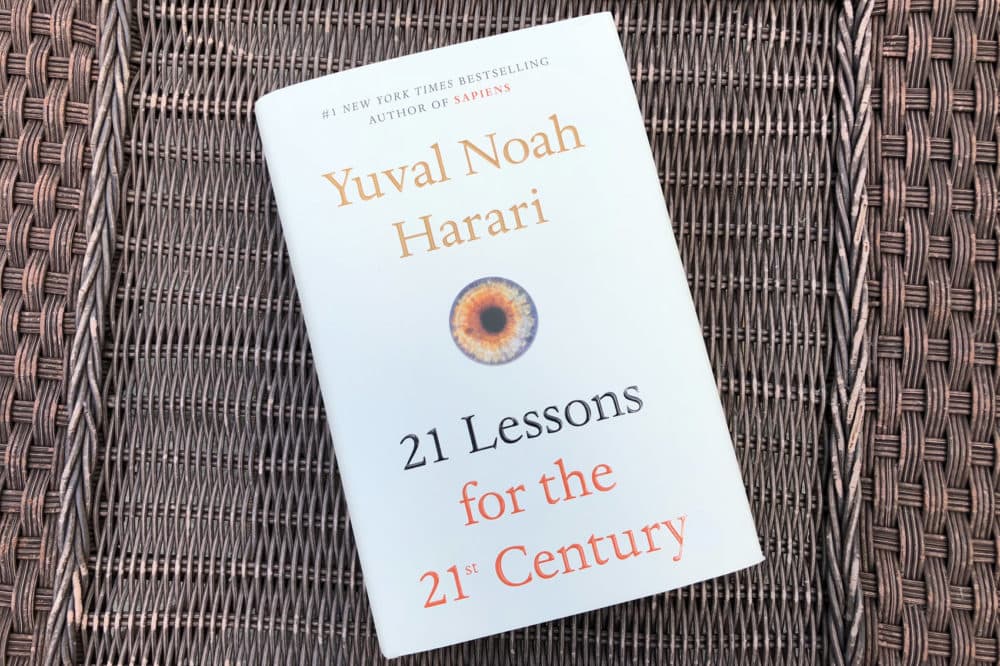 "21 Lessons for the 21st Century," by Yuval Noah Harari. (Alex Schroeder/On Point)
With Meghna Chakrabarti
From hacking to terrorism, and our polarized world, it's going to take a radical rethink of everything to survive this century, says historian and best-selling author Yuval Harari. He's with us.
Guest
Yuval Noah Harari, lecturer at the Hebrew University of Jerusalem, where he specializes in world history. Author of "21 Lessons for the 21st Century," "Sapiens: A Brief History of Humankind" and "Homo Deus: A Brief History of Tomorrow." ()  http://www.wbur.org/onpoint/2018/09/06/yuval-harari-21-lessons-for-...

Everywhere Bannon looked in the modern world, he saw signs of collapse and an encroaching globalist order stamping out the last vestiges of the traditional.  He saw it in governmental organizations such as the European Union and political leaders such as German chancellor Angela Merkel, who insisted that countries forfeit their sovereignty, and thus their ability to maintain their national character, to distant secular bureaucrats bent on erasing national borders.  He saw it in the Roman Catholic Church, whose elevation of Pope Francis, "a liberal-theology Jesuit" and "pro-immigration globalist," to replace Pope Benedict XVI so alarmed him that, in 2013, he established Breitbart Rome and took a Vatican meeting with Cardinal Raymond Burke in an effort to prop up Catholic traditionalists marginalized by the new Pope.
Traditionalist Catholicism is a movement of Catholics in favour of restoring many or all of the customs, traditions, liturgical forms, public and private devotions and presentations of the teaching of the Catholic Church before the Second Vatican Council (1962–65). They are commonly associated with an attachment to the eucharistic liturgy often called the Tridentine, Traditional Latin or extraordinary form of the Mass.
In general, Traditionalist Catholics were disturbed by the liturgical transformations of the Second Vatican Council, arguing that it stripped the liturgy of its outward sacredness and made it too Protestant, eroding faith in the Real Presence of Christ in the Eucharist. Many also oppose the social teachings given by the Church during and after the Council, and that on ecumenism, claiming that the latter blurs the lines between Catholicism and other religions.
Today, according to one writer, about 1% of people who identify as Catholic claim to be "traditional", but the number of practicing Catholics who consider themselves "traditional" may be as high as 11%.[1] The vast majority of traditional Catholics regard the newer rites of the sacraments and the post-Vatican II popes as valid, and attend traditional Masses offered by diocesan priests, the Institute of Christ the King Sovereign Priest (ICRSS), FSSP, or SSPX. Some occasionally attend the newer version of the Mass, or the Novus Ordo form, especially if no Latin Mass is available to them, even while they may regard it as inferior. Others refuse to attend the Novus Ordo Mass even if there is no Latin Mass.
Steve Bannon Carries Battles to Another Influential Hub: The Vatican
Pope Francis leading a prayer at the Vatican in late January. The pope's agenda has made him a figure of unmatched global popularity, especially among liberals.
ROME — When Stephen K. Bannon was still heading Breitbart News, he went to the Vatican to cover the canonization of John Paul II and make some friends. High on his list of people to meet was an archconservative American cardinal, Raymond Burke, who had openly clashed with Pope Francis.
In one of the cardinal's antechambers, amid religious statues and book-lined walls, Cardinal Burke and Mr. Bannon — who is now President Trump's anti-establishment eminence — bonded over their shared worldview. They saw Islam as threatening to overrun a prostrate West weakened by the erosion of traditional Christian values, and viewed themselves as unjustly ostracized by out-of-touch political elites.
"When you recognize someone who has sacrificed in order to remain true to his principles and who is fighting the same kind of battles in the cultural arena, in a different section of the battlefield, I'm not surprised there is a meeting of hearts," said Benjamin Harnwell, a confidant of Cardinal Burke who arranged the 2014 meeting.
While Mr. Trump, a twice-divorced president who has boasted of groping women, may seem an unlikely ally of traditionalists in the Vatican, many of them regard his election and the ascendance of Mr. Bannon as potentially game-changing breakthroughs.
Just as Mr. Bannon has connected with far-right parties threatening to topple governments throughout Western Europe, he has also made common cause with elements in the Roman Catholic Church who oppose the direction Francis is taking them. Many share Mr. Bannon's suspicion of Pope Francis as a dangerously misguided, and probably socialist, pontiff.
Until now, Francis has marginalized or demoted the traditionalists, notably Cardinal Burke, carrying out an inclusive agenda on migration, climate change and poverty that has made the pope a figure of unmatched global popularity, especially among liberals. Yet in a newly turbulent world, Francis is suddenly a lonelier figure. Where once Francis had a powerful ally in the White House in Barack Obama, now there is Mr. Trump and Mr. Bannon, this new president's ideological guru.
For many of the pope's ideological opponents in and around the Vatican, who are fearful of a pontiff they consider outwardly avuncular but internally a ruthless wielder of absolute political power, this angry moment in history is an opportunity to derail what they see as a disastrous papal agenda. And in Mr. Trump, and more directly in Mr. Bannon, some self-described "Rad Trads" — or radical traditionalists — see an alternate leader who will stand up for traditional Christian values and against Muslim interlopers.
"There are huge areas where we and the pope do overlap, and as a loyal Catholic, I don't want to spend my life fighting against the pope on issues where I won't change his mind," Mr. Harnwell said over a lunch of cannelloni. "Far more valuable for me would be spend time working constructively with Steve Bannon."
He made it clear he was speaking for himself, not for the Institute for Human Dignity, a conservative Catholic group that he founded, and insisted that he shared the pope's goals of ensuring peace and ending poverty, just not his ideas on how to achieve it.
Mr. Bannon publicly articulated his worldview in remarks a few months after his meeting with Cardinal Burke, at a Vatican conference organized by Mr. Harnwell's institute.
Speaking via video feed from Los Angeles, Mr. Bannon, a Catholic, held forth against rampant secularization, the existential threat of Islam, and a capitalism that had drifted from the moral foundations of Christianity.
That talk has garnered much attention, and approval by conservatives, for its explicit expression of Mr. Bannon's vision. Less widely known are his efforts to cultivate strategic alliances with those in Rome who share his interpretation of a right-wing "church militant" theology.
Mr. Bannon's visage, speeches and endorsement of Mr. Harnwell as "the smartest guy in Rome" are featured heavily on the website of Mr. Harnwell's foundation. Mr. Trump's senior adviser has maintained email contact with Cardinal Burke, according to Mr. Harnwell, who dropped by the cardinal's residence after lunch. And another person with knowledge of Mr. Bannon's current outreach said the White House official is personally calling his contacts in Rome for thoughts on who should be the Trump administration's ambassador to the Holy See.
During Mr. Bannon's April 2014 trip he courted Edward Pentin, a leading conservative Vatican reporter, as a potential correspondent in Rome for Breitbart, the website that is popular with the alt-right, a far-right movement that has attracted white supremacists.
"He really seemed to get the battles the church needs to fight," said Mr. Pentin, the author of "The Rigging of a Vatican Synod?" a book asserting that Pope Francis and his supporters railroaded opponents. Chief among those battles, Mr. Pentin said, was Mr. Bannon's focus on countering a "cultural Marxism" that had seeped into the church.
Since that visit and the meeting with Cardinal Burke — an experience that Daniel Fluette, the head of production for Breitbart, described as "incredibly powerful" for Mr. Bannon — Mr. Trump's ideological strategist has maintained a focus on Rome.
Mr. Bannon returned to direct the documentary "Torchbearer," in which the "Duck Dynasty" star Phil Robertson contemplates the apocalyptic consequences of an eroding Christendom. Mr. Bannon also reunited with old friends, including Breitbart's eventual Rome correspondent, Thomas Williams.
A former priest, Mr. Williams said that he used to have arguments with Mr. Bannon about whether the pope subscribed to a hard-left brand of liberation theology, with Mr. Bannon calling the pope a "socialist/communist." Mr. Williams said he usually defended the pope, but that recent statements by Francis convinced him "Steve turned out to be right. That happens more often than not."
Mr. Bannon's private thoughts about the pope have at times surfaced in public.
On May 23, Mr. Bannon and Mr. Williams spoke about Pope Francis on the radio program Breitbart News Daily.
Discussing a Breitbart article about the new mayor of London titled "Pope Hails Election of Sadiq Khan, Celebrates Mass Muslim Migration Into Europe," Mr. Bannon suggested that the pope "seems almost to be putting the responsibility on the working men and women of Italy and Europe et cetera, that they have to go out of their way to accommodate" migration.
Was the pope a global elitist, Mr. Bannon asked, "two or three steps removed from this?"
Many critics of Francis express similar views, but they are often scared to express it for fear of retribution from the pope, who, they say, has eyes and ears all over the Vatican.
Instead, the pope's critics anonymously papered Rome over the weekend with posters of a grumpy-looking Francis above complaints about his removing and ignoring clerics and cardinals. "Where's your mercy?" it asked.
Conservatives and traditionalists in the Vatican secretly pass around phony mock-ups of the Vatican's official paper, L'Osservatore Romano, making fun of the pope. Or they spread a YouTube video critiquing the pope and his exhortation on love in the family, "Amoris Laetitia," which many traditionalists consider Francis' opening salvo against the doctrine of the church. Set to the music of "That's Amore," an aggrieved crooner sings, "When will we all be freed from this cruel tyranny, that's Amoris" and "It's the climate of fear engineered for four years, that's Amoris."
Stephen K. Bannon has sought alliances with those in Rome who believe that Pope Francis is taking the Roman Catholic Church in the wrong direction.CreditHilary Swift for The New York Times
Cardinal Burke — who has said that the pope's exhortation, which opened the door for divorced Catholics remarried outside the church to receive communion, might require "a formal act of correction" — has been unusually outspoken in his criticism of Francis. Cardinal Burke and Mr. Bannon declined to comment for this article.
Just weeks ago, the pope stripped Cardinal Burke of his remaining institutional influence after a scandal exploded at the Knights of Malta, a nearly 1,000-year-old chivalrous order where he had been exiled as a liaison to the Vatican. The pope had removed the order's grand master after he showed disobedience to the pope. There was a sense in the order that the grand master followed the lead of Cardinal Burke because he projected authority, a power that stemmed in part from his support by the Trump administration, one influential knight said.
Cardinal Burke has become a champion to conservatives in the United States. Under Mr. Bannon, Breitbart News urged its Rome correspondent to write sympathetically about him. And at a meeting before last month's anti-abortion March for Life rally in Washington, Cardinal Burke received the Law of Life Achievement, or Nail award, a framed replica of the nail used to hold the feet of Christ to the cross. According to John-Henry Westen, the editor of Life Site News, who announced the award, the prize is awarded to Christians "who have received a stab in the back."
Despite Mr. Bannon's inroads in Rome, Mr. Burke and other traditionalists are not ascendant in the Vatican.
The Rev. Antonio Spadaro, a Jesuit priest who edits the Vatican-approved journal La Civilta Cattolica and who is close to the pope, dismissed their criticism as the stuff of a noisy but small "echo chamber."
He also played down the effect of Mr. Trump's ascent on the standing of Francis' opponents in the Vatican, saying it was only on a "level of image" and "propaganda."
The pope will maintain his direction and not be distracted by fights against those trying to undercut him, Father Spadaro said. "He moves forward, and he moves ahead very fast."
He added that Mr. Trump's ban on immigrants from certain Muslim countries was "opposite" to the pontiff's vision for how to foster unity and peace. The pope, Father Spadaro said, is doing everything he can to avoid the clash of civilizations that both fundamentalist Muslims and Christians want.
Indeed, the pope does not seem to be slowing down.
Days after the election of Mr. Trump, in St. Peter's Basilica, the Vatican officially elevated new cardinals selected by Pope Francis who reflected the pope's emphasis on an inclusive church — far from the worldview of Mr. Bannon and Mr. Burke.
"It's not that he is just bringing new people in that think maybe like him," Cardinal Blase Cupich, the influential new cardinal of Chicago, said after the ceremony. "He is transforming the church in making us rethink how we have done things before."
That transformation was evident later in the evening, when the old conservative guard came to pay their respects to the new cardinals.
João Braz de Aviz, a powerful cardinal close to the pope, walked around in simple cleric clothes, the equivalent of civilian dress among all the flowing cassocks. Asked whether the ascent of Mr. Trump would embolden Mr. Bannon's allies in the Vatican to intensify their opposition and force the pope to take a more orthodox line, he shrugged.
"The doctrine is secure," he said, adding that the mission of the church was more to safeguard the poor. It was also, he reminded his traditionalist colleagues, to serve St. Peter, whose authority is passed down through the popes. "And today, Francis is Peter."
Pope Francis' Race Against
Time to Reshape the Church
Pope Francis Has Appointed
About a Third of the Cardinals
Eligible to Choose the Next Pope
44
of the 121
voting cardinals
The College of Cardinals is responsible for electing a new pope. Pope Francis' third set of cardinals will receive their "red hats" at a ceremony on Saturday.
With the new additions, 44 of the 121 cardinals eligible to vote will have been named by Francis. But nearly two-thirds of the current cardinals were appointed by Francis' predecessors, Popes Benedict XVI and John Paul II, who were more theologically conservative and whose priorities were different from Francis'. The cardinals, however, do not all share the views of the pope who appointed them.
Cardinals Are Eligible to
Vote Until They Turn 80
Cardinals appointed by
each pope and
current age
Of the 121 cardinals eligible to vote, 32 will turn 80 in the next five years, including 25 who were appointed by Benedict XVI and John Paul II. This gives Francis or his successor the opportunity to make new appointments.
Francis Has Continued to
Diversify the College of Cardinals
Share of cardinals appointed by each pope by continent of origin
Pope Francis, the first pope from Latin America, has expanded the effort of recent popes to diversify the College of Cardinals to reflect the church's global reach. Francis has added cardinals from Asia, Africa and Latin America – some from countries that had not previously had a cardinal: Bangladesh, the Central African Republic, Lesotho, Malaysia and Papua New Guinea.
The College of Cardinals Has Been Shifting
to More Closely Reflect Who Is in the Pews
Voting members of the College of Cardinals on recent conclaves, and today.
The church nearly doubled the number of voting cardinals in the last century. But until recently, the College of Cardinals was dominated by Europeans, especially Italians, even as growth in the church shifted to the Southern Hemisphere.
In the early 1900s, about two-thirds of all Roman Catholics were in Europe. Now, more than half are in Latin America and Africa. But even with the new appointments, less than one third of the voting cardinals are from these two regions.
Source: Holy See press office. Note: There were two conclaves in 1978. The first elected pope John Paul I, who died about a month after the election. The second conclave elected pope John Paul II.