Back in 1478 the Spanish Inquisition began.  It's purpose was to root out "heretics" (primarily Jews), make them personally recant their beliefs and "accept" the doctrines of the Catholic Church. 
Sadly, this was accomplished through the use of interrogation, torture and imprisonment.
Now lets leap forward 540 years to 2018...
Lara Alqasem is an American citizen from a suburb of Fort Lauderdale. 
She also is quite intelligent because she was INVITED to study for her master's degree at the Hebrew University of Jerusalem.  She accepted and, after requesting and receiving a valid student visa from Israel, she board a plane and flew into Israel's Ben Gurion Airport.  
Upon landing Ms. Alqasem became a victim of the New Inquisition. 
When she deplaned, she was not simply refused entry into Israel, she was taken in for interrogation and was subsequently imprisoned. 
THIS Inquisition wasn't created to find and imprison heretic Jews, but is, in fact, RUN by Jews to punish and torture people who do not accept THEIR doctrines.
Her crimes?... being a supporter of the Boycott, Divestment and Sanctions (BDS) movement, having been the president of the University of Florida chapter of Students for Justice in Palestine and, of course, the crime of being of Palestinian ancestory.
She has imprisoned for an entire week until her case was heard by the Tel Aviv District Court today. 
She will CONTINUE to be interrogated and imprisoned until the Court issues it's ruling, which amounts to indefinite imprisonment.
Oh, as to who is the new Tomas de Torquemada?
That would be Gilad Erdan of Israel's Ministry of Strategic Affairs. 
Gilad Erdan is the one who stated that he he would reconsider Ms. Alqasem's imprisonment on the condition that she recants her support for BDS. 
I can only assume that "Gilad de Israel" is disappointed that the rack and hot irons have gone out of fashion so he could use them to make Ms. Alqasem "accept" the doctrines of Israel.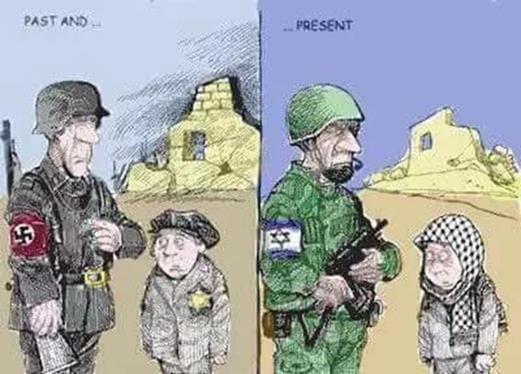 P.S.  Israel has already recreated the Holocaust in Gaza, so, between the two, they can pretty much shove their "victimhood" right up their asses because they have BECOME those who they SAY they hate.
P.P.S.  If this disgusts you as much as it does me, you might want to consider supporting these two noble, non-violent organizations:
To read more about this:
https://www.aljazeera.com/news/2018/10/student-lara-alqasem-held-is...
https://972mag.com/judge-orders-palestinian-american-student-to-rem...