A Dubious History
Peanuts, Goober Peas, whatever they are called, have been a staple food for a long time.  There are no fossil records of peanuts (peanuts don't have bones or teeth), but there is ceramic evidence of peanuts as either decoration or as the actual shape of pottery dating back 3,500 years suggesting that the peanut was first cultivated in Brazil or Peru.
A modern vase in the form of a peanut.
In North America they were grown in Virginia in colonial times, and one of the items on the menu in Williamsburg, Virginia is peanut soup.  If you are interested in the recipe from the Kings Tavern you can find it here.
I found peanut soup an acquired taste, but it is included here to make the point that the peanut has been important in Southern cuisine since the European invasion of North America. 
At one time the slogan in the South was, "Cotton is King."  Cotton production survived emancipation and it survived soil depletion through the discovery that crop rotation with legumes could restore nitrogen to the depleted soil. It survived the boll weevil through the use of insecticides like DDT and then when using that class of insecticides became a no-no through the use of the organophosphates like methyl parathion. 
But, when the boll weevil arrived some areas of the country, like southern Alabama and Georgia switched to growing peanuts.  George Washington Carver showed the nation how to make hundreds of products with peanuts and growing peanuts became big business.
I grew up taking a PB&J sandwich to school in my lunch box every day along with an apple or a small box of raisins.  We kept bees and sometimes honey was substituted for the jelly and I took a PB&H to school.  I never got tired of the taste of peanut butter.
As a child in the late '40s and early '50s we took a bus to town occasionally.  I grew up on what was essentially a subsistence farm without a lot of disposable income, so we went to Penny's and Sears to buy school clothes or to the dentist to get one of my new cavities filled by the dentist.  As a treat, we would stop by Woolworth's and buy the cheapest thing that they sold from the hot case, Spanish peanuts.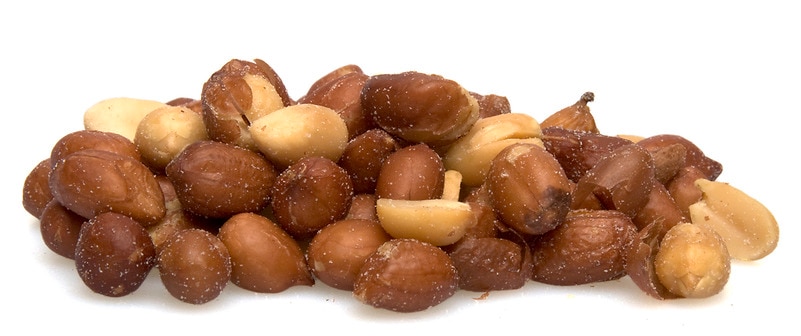 Mother would buy them by the ounce and they came over the counter in a small paper slip of a bag all hot and oily and salty and crunchy shedding the red skins everywhere.  Sometimes, when the anesthetic wore off I would discover some uneaten peanuts hidden in the back corners of my mouth along with a sore tongue or cheek that I had chewed during my snacking frenzy.
On really rare occasions Mom would buy Maple Nut Goodies, but usually it was Spanish peanuts.
And then I got older, more urbane, and moved on to a wider range of goodies.  And, at about 35 I got into the pound a year club, so that by age 50 I needed to do something about my chipmunk cheeks.  My wife and I looked at various diets and decided to go with the Atkins' diet (or some variation) which allowed you to eat anything that did not contain much in the way of carbohydrates. My target was 155 pounds.  That was my best weight at my physical prime, but I was no longer at my prime.  I lost from 185 to 157 doing that and stopped when people started telling me that I was beginning to look gaunt.
No carbs means nothing white.  There was no pasta, no bread, no rice, no potatoes; just salads and green beans and chicken or fish or naked burger patties.  I was never hungry, but something seemed to be missing all of the time.  As a snack we found that we could have a quarter of a cup of Spanish peanuts in the afternoon.  The skins add extra fiber, and fiber counts against carbohydrates.  Additionally, peanuts are fairly high in protein and low in carbohydrates. 
There were peanut skins everywhere.  They seemed to fly away and land on the furniture, between the seats in the car, in your underwear drawer…everywhere.
We would crack each peanut in two with our teeth and eat one half at a time, chewing each half twenty times.  If we dropped a half peanut we invoked the three second rule, or if it fell in a crack we cried.
When we went back on a modified diet I gained back to the upper 160s and have been there since.  I eat potatoes and multi-grain, wholegrain bread and rice, all in proportion.  I was never a fan of pasta, so I never added that back. 
I have a piece of toast with peanut butter and fruit for breakfast.  It is organic peanut butter without any additives.  Sometimes it is homogenized, but other times the oil is floating on the top and the solid part has to be mixed with the oil which is messy.  I've never gotten tired of the taste of peanuts, and the other day we bought a can of Spanish peanuts, something we really could not look at for a few years.