Do you remember the $64,000.00 question?  Not the exact question, rather the show?  Inflation caused the show to go over the years from the $64.00 question to the much higher figure.  The show presented a basic anomaly, which may not have been an anomaly at all, that the most amazingly intelligent people on the show were decidedly unsuccessful by usual standards.
One series was won by a cab driver.
NPR has had a weekly program for several years, "Wait, wait…Don't Tell Me", which pairs a panel member with some average person around the country in a quiz.  Everyone was amazed in one episode when, "Bubba" from Knoxville, Tennessee who worked in a meat market, knew the answer to everything.  The usual remark went something like, "Why is someone that smart working as a butcher?"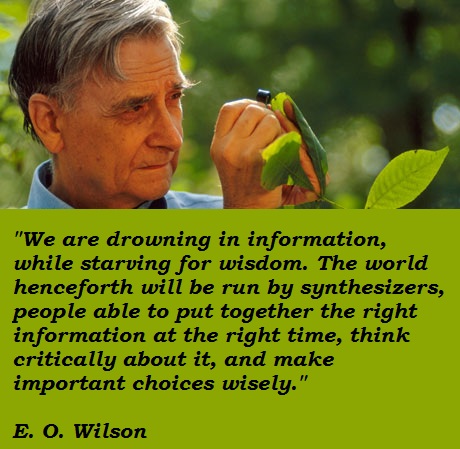 "Edward O. Wilson, in full Edward Osborne Wilson, (born June 10, 1929, Birmingham, Alabama, U.S.),
American biologist recognized as the world's leading authority on ants.
He was also the foremost proponent of sociobiology, the study of the genetic basis of the social behaviour of all animals, including humans."
A recent essay by Charles Chu dealt with a few ideas from E.O. Wilson's book, "Letters to a Young Scientist".
A couple of the ideas reminded me of recent discussions we have had on this website; the meaning and relative value of being introverted, and the value of I.Q.  One commenter remarked, "We're all a bunch of under achievers here."
Basically, Wilson who had a respectable although not really exceptional I.Q. questioned the value of a really high I.Q.  Wilson, whose I.Q. was reportedly 123, had observed that those with I.Q.s above, say, 140, suffered from the same problem that pretty girls and gifted athletes did; achievement came too easily, and such individuals suffered from boredom and tended not to achieve as much as less gifted individuals did.
Personality type, Wilson theorized, may have more to do with scientific success than intelligence.  He argued that introverted individuals were less focused, more speculative, and therefore more apt to arrive at creative new ideas than the individuals voted "most likely to succeed".
This doesn't fit with my own success story.  As an introverted, not overly smart child I should have done much better.  I feel like such a failure.
I looked my I.Q. up on a chart that gave the relative rarity of each IQ score as well as a 15 standard deviation percentile ranking.  According to those figures there is one person in 200 as smart as, or smarter than I am.  At first that sounds pretty exclusive, but when you think it through, the crowd you "hang with" is not the general population.  You have already placed yourself lower on average in your group by becoming friends with only those you consider to be smart people (unless you are the smartest).  In a world with a population of some 7.49 billion people, there are 367, 450,000 people as smart or smarter than I.  That's equal to the whole United States and change.
Also, my IQ was measured when I was in college.  An individual's IQ declines with age, and I'm sure it's much lower now.
(I have a recurring nightmare in which I have gone back to school, can't understand what is being taught, have a test coming up for which I have not studied and am unprepared, and don't know where the exam is being held.  In the last iteration of that dream I was sent from Old Main to a small house off-campus housing, The Office of Lesbian Affairs, where a friend who is an actual college instructor and lesbian told me that the exam wasn't being held there, that I was hopeless and should drop out.  I'm sure that a psychotherapist would have field day with that.)
The thing is, IQ is important if you desire to be a NASA scientist, but, obviously not if you want to be a politician. There have been some brilliant presidents.  The claim is that John Quincy Adams was probably our smartest. Seventeen of our presidents have been inducted into Phi Beta Kappa.  Still, it's not that important.  Oliver Wendell Holmes famously said of Franklin Delano. Roosevelt that he was a man of "second class intellect, and first class temperament."
E.O. Wilson was of the opinion that personality traits were much more important than raw intellect for a budding scientist.  The traits that he thought to be important included introversion, anger against something, and lack of focus.  I imagine that E.O. Wilson fulfilled all of those requirements, as did the author of the essay.
I have often wondered about Carl Sagan's I.Q.  Like most people, his I.Q. is not a matter of public record, nor should it be.  The man who created the show Cosmos, who in death has a fan club, was smart enough, driven enough, and was exceptional enough to have a unit of measure named after him, the Sagan.  A Sagan is four billion because that is the smallest number to which "billions and billions" can be reduced.  That is a fan joke.
Sagan's interests were very broad and his book, "The Dragons of Eden", was as thought-provoking as "Cosmos".  Some scientists have complained that Sagan got too much attention; that he wasn't really that much of a scientist.  Really…that sounds a lot like sour grapes to me.
As to present day politicians, who is the smarter, Bill or Hillary Clinton?
There is a lot of misinformation on the web.  I wouldn't trust any of it for the reasons mentioned in the link.  Most people would agree, however, that the Clintons are both very intelligent.  Some have claimed that Hillary is actually smarter.  I don't know.  I was a casual acquaintance 30 years ago.  He was a bigger personality with magnetic charisma.  She came across as a ruthless, very organized, shrewd and lusterless person.  Sorry, Hillary, that was just my opinion after one meeting and a lot of conversation with mutual acquaintances.  I also know that you have had close, fast, and long-lasting friendships and are noted for your uproarious laugh.  Those bump you way up in my estimation.
Personality and gender made Bill more successful as a politician.
People can't talk about the Clintons without talking about Bill's infidelity.  Gene Lyons, a journalist with the Arkansas Times wrote,
"That said, I don't put much stock in that psychologist who told her that Bill's infidelity had its roots in his childhood, and that 'most men with fidelity problems (were) raised by two women and felt conflicted between them.'
I'd suggest it had its roots in his pants."
For a lot of reasons, like Whitewater, the Monica Lewinsky affair, and numerous other affairs, neither will be remembered as fondly or with as much admiration as Carl Sagan.
"The Cosmos" has been viewed by over 500 million people around the world, and Sagan may have billions and billions of fans.