I
n January, 2008 the book, "The Geography of Bliss, One Grump's Search for the Happiest Places in the World" was published.  It was a sort of travelogue written by Eric Weiner about the relative happiness of the average person in places as diverse as Bhutan and Iceland.  Although the author referenced studies related to happiness this was meant to be a good read, not a scholarly work.  Weiner did not rank the countries, but he supplied ample information to allow the reader to do so, and it could be argued that the happiest place he visited was Iceland and the unhappiest was Moldova.  
The surprise was that income, past the point of supplying basic needs, did not contribute much to happiness.  Community and fairness seemed much more important.  The people of Bhutan seemed fairly happy, despite the fact that it is a small and fairly poor country.  The emperor was educated in Britain and encouraged the formation of a constitutional monarchy with a parliamentary democracy.
Most notable, perhaps, is that the emperor measured success not as Gross National Product, but Gross National Happiness.
In 2012, the first World Happiness Report was issued by the Sustainable Development Solutions Network at the request of a U.N High Level Meeting on happiness and well-being.
The results followed a simple question that went like this.  "Imagine that you are on a ladder with ten rungs.  Each rung goes from the lowest where you are most unhappy to the top where you are most happy.  Which rung are you on."
Each year from 2012 to 2017 the results are reported as an average of the most recent three years.  In 2017 Norway was happiest with Denmark, Iceland and Switzerland closely behind.  What do these countries have in common? "All of the top four countries rank highly on all the main factors found to support happiness: caring, freedom, generosity, honesty, health, income and good governance."
Please note; most of the factors contributing to happiness are social.
Norway is a wealthy country due to its oil wealth.  However, some maintain that Norwegians are happy despite their oil wealth because the nation chooses to produce oil slowly and reinvest the income in projects that will benefit all.
 The U.S. ranked 3rd on a "happiness" survey in 2007; by 2016 - in the study commissioned by the U.N. - the U.S. had fallen to 16th, and for 2017 the U.S. ranks 14th just below Austria and just above Ireland.
Around the world people are struggling.  In China people are no happier than they were 25 years ago.  Japan, which has a uniform population, a high standard of living, no gun violence and a good universal healthcare system, ranked far below the U.S. in happiness.
Most of the results are no surprise.  Members of the former Soviet Union such as the Eastern European nations and the "stans" (Uzbekistan, Tajikistan etc.) are moderately unhappy.  North African countries are lower, and the least happy are in sub-Saharan Africa with the Central African Republic being most unhappy.
A recent Gallup Poll using the Gallup-Sharecare Well-being Index showed a shift in the sense of well-being in America.  No state showed an increase in well-being, while nearly half (21 states) showed a decrease in the sense of well-being.  This seems odd if you think a strong economy should make people happy.  The previous record for a decreased sense in well-being was in 2009 at the height of the Great Recession when 15 states showed a decline in overall happiness.
Furthermore, the distribution of the states in which Americans feel more unhappy overlaps a great deal with the states which Donald Trump won in the 2016 election.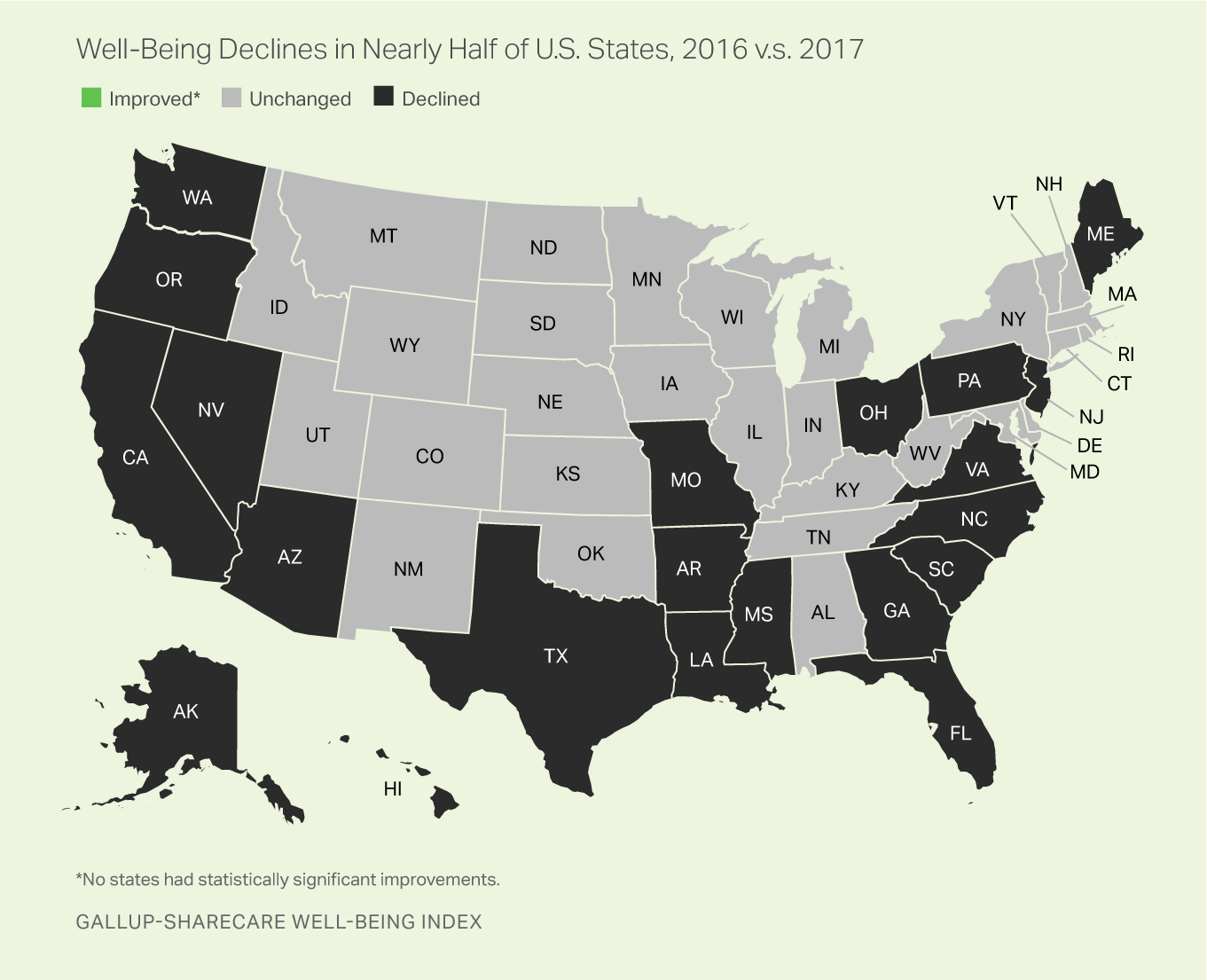 The "Sharecare" index is explained thus:
"Well-being is a concept that captures the important aspects of how people feel about and experience their daily lives. Encompassing more than just physical health or economic indicators, well-being includes five essential elements: purpose, social, financial, community, and physical."
In the 2017 report the following assessment was made:
"Although improvements in certain physical health categories and community well-being signal progress, the sharp declines in overall well-being were driven by drops in purpose and social well-being metrics, as well as the mental health aspects of physical well-being. Out of a possible score of 100, the national Well-Being Index score dropped from 62.1 in 2016 to 61.5 in 2017, marking the largest year-over-year decline since the index began in 2008."
The highest ranking state in terms of overall well-being was South Dakota (which ranked high in 'purpose"), followed by Vermont (which ranked high in social well-being) and Hawaii (which ranked in purpose, social and community well-being).
So, what does any of this bode for America's future?
We cannot achieve the level of overall well-being seen in the Scandinavian countries and Switzerland.  What they share is a form of democratic socialism which the most miserable in America abhor as the road to a "nanny" state. 
In the Gallup-Sharecare poll there was a paradox.  While Americans are doing better than ever at regular exercise and smoking cessation, the rates of obesity, diabetes and depression remain high.  Over 20% of Americans are now considered chronically depressed.  One cause of depression is having life problems that one is helpless to correct.
Loneliness is normal.  Chronic lonelinessis not.  In Children it leads to inability to form relationships, school dropout and other problems.  In adults, loneliness contributes to depression and health problems.  We need inclusion in a group and we need close relationships.
The question not addressed in any of these studies is what can be done about chronic loneliness, unhappiness, and a diminished sense of well-being.  On a visceral level we know something is wrong.  In the U.S. there is a basic suspicion of government, unlike in the Scandinavian countries.  The basic premise in those countries is that government works for the citizens.  Although that is asserted here, everyone believes that government works for someone else; for some other group. 
For some that other group is lazy people on welfare.  For others it is big business.  Whoever we imagine we believe that government does not serve us.  For the same reason we cannot accept a universal healthcare system dedicated not just to fixing sick people, but also promotion of health and prevention of disease.
What are the factors that interfere with having a sense of purpose, a sense of group identity and sense that there is a safety net to catch us when we fall?  Those social factors that support a sense of well-being may be the main reason for our unhappiness and loneliness.
Is there any role for government in promoting these essentials for happiness?  Are these things missing because of changes in modern society that are unavoidable?
At one time, not long ago, community was established through work.  The work itself might be dirty, boring or even dangerous, but families of steel workers, coal miners and auto workers found a sense of shared life experience that drew them together.  The loss of such employment has led to loss of purpose, loss of community, and loss of the security associated with employment
Miners and manufacturers had place based employment.  Modern service jobs like restaurant work don't seem to provide that community.  People try to find connection but are often left lonely and hopeless.
On a worldwide basis people are turning to authoritarian leaders.  Why is that?  What promise do they give to lonely people?  In the U.S. we know about President Trump and his promises.  He has fostered the idea that some other group is responsible for your unhappiness.  All sorts of minorities, especially "Mexicans" have been made scapegoats.
Never mentioned is the hopelessness produced by steadily increasing wealth inequality, threats to our social safety net, and loss of purpose.