I read this poem for the first time today.  
I cried...
I Stand So That You Can Kneel
I stand to honor the promise the flag represents.
You kneel because that promise has been broken.

I stand to affirm my belief that all are created equal, and to fight alongside you for that promise.
You kneel because too few stand with you.

I stand because we can be better.
You kneel to remind us to be better.

I stand to honor all that have fought and died so that we may be free.
You kneel because not all of us are.

I stand because I can.
You kneel for those who can't.

I stand to defend your right to kneel.
You kneel to defend my right to stand.

I stand because I love this country.
You kneel because you love it too.

written by: Andrew Freborg
*****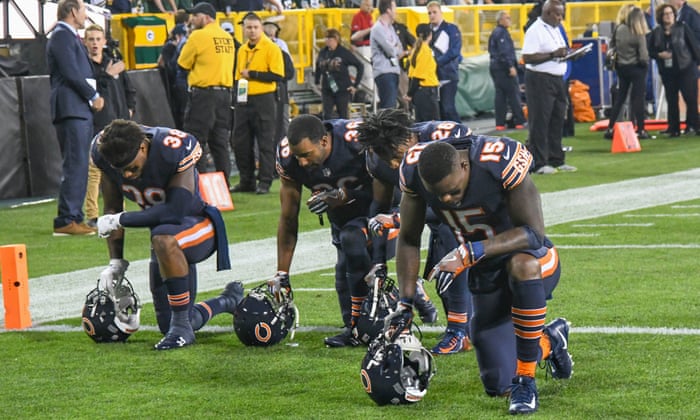 Let me start out by saying that I LOVE me some Bear's football.  I'm a huge fan of DA BEARS and always will be.  
That said, this year I will not be watching them.  
This year I will not be buying a new Bears jersey to replace the ragtag one I've owned for decades.  
This year I will not be buying any products from any company that sponsors or is affiliated with the National Football League.
You see... I have no control or power over the NFL, but I do have control over my TV remote and who's products I buy.
I will not be watching any NFL games nor buying any of the above cited products this season until this racist, ignorant policy changes.
#BoycottNFL
How many of you self-proclaimed Liberal supporters of equal civil rights are going to do the same?  
(I'm shaking my head right now because I can already hear the excuses of "why not...")
Oh, and for all of you fiscal knowitalls...  guess where you tax dollars have been going?  
Sorry, but the Defense Department and the NFL don't impress me much with their "store bought" patriotism.