Eastern Europe apparently is a hotbed of LGBTQ related research these days.
For example, a graduate of Albanian University has published a paper that links homosexuality to an unhealthy diet.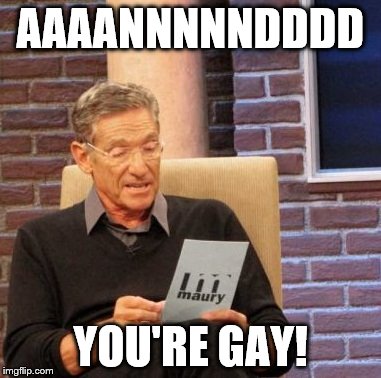 Rita Strakosha, who says she has an M.P.S. degree in Clinical Psychology published a 56-page research study that claims:
"Homosexuals"often eat large amounts of high glycemic index foods and fat, or eat an imbalanced diet, leaning toward carbohydrates.

 ::waves my mayonnaise smeared knife at y'all::

Gay men, lesbian and bisexual women report a higher sugar-sweetened beverage consumption than straight men and women

::waves my extra-sweet latte at y'all::

Access to a high calorie diet and alcoholic drinks was limited to the social elite circles in the past. Homosexuality as well appears to have been more frequent among that group.

 ::waves my JP Morgan Palladium Credit Card at y'all::
On the other hand, the paper ties homosexuality to fats, sugars and alcohol, claiming that cutting them out of your diet can "prevent the return of homosexual attractions".  
It argues that following a healthy diet with no sugar and sleeping adequately will 'cure' homosexuality in an individual and prevent its return.  
In fact, if you follow her instructions, the author says the "sexual partner preference of the person [may move] toward the heterosexual end in the Kinsey scale".
Who knew you could "cure" homosexuality with a salad and a nap!
https://psikolog1.wordpress.com/2017/04/09/modern-diet-and-stress-c...
Of equal importance is the study out of the University of Nicosia that has "discovered" same-sex attraction in women developed because men get turned on by it!
The study found that "34.3 percent of male respondents would prefer a partner who is attracted predominantly to members of the opposite-sex but occasionally of the same-sex [no doubt only the ones with fake tits, hooker makeup and big ass finger nails]".
Lead researcher Menelaos Apostolou's hypothesis also states that "A woman, driven by her sexual desires [sorry, dude...  my sexual desire don't have a valid drivers license...], may seek sexual contact outside of her long-term intimate relationship.  When this woman has sex with another woman she does not have sex with another man which translates into same-sex contact reducing the risk of cuckoldry."
https://www.pinknews.co.uk/2017/05/19/homosexual-behaviour-in-women...