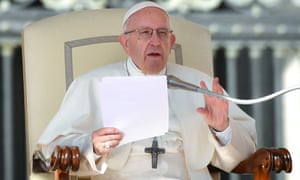 Recently, good 'ol Pope Francis compared abortion to hiring a hitman. 
I think he's on to something and, being a Catholic Pope, he is in a position to know about hitmen!
Between proxy hitmen, like the ones who were paid with plenary indulgences during the crusades...
...to the direct Catholic clergy ones, who have been hard at word since the Inquisition,...
...the Catholic church has a long involvement with hitmen. 
That doesn't even take into account the ones who murder doctors and blow up women's clinics, so...
Anyways, I happen to disagree.
That's okay though. 
He can compare abortions to hiring a hitman all he wants...
...because I compare Catholic Popes to pedophile hiding assholes.
The difference is, I'm right and he's a pedophile hiding asshole.