Don't you just hate that? 
I mean how dare a bunch of government sanctioned and supported internet "hacktivist", social media warriors and psyops specialist do their damnest to swing an election to better favor their own country?
No, I'm not JUST talking about the Democratic elite whining about the Russians "meddling" in our elections (by publishing THE TRUTH ABOUT WHAT THEY DID... **ahem**)...
Nope...  I'm also talking about Israel's on-going propaganda campaign that uses thousands of government prompted and backed social media attack trolls, as reported by Asa Winstanley an investigative journalist and associate editor with The Electronic Intifada, "to make comments against Labour Party leader Jeremy Corbyn, accusing him of anti-Semitism."!
It doesn't matter if the comments, claims or smears are baseless or not, because they use Joseph Goebbels' idea of "if you repeat it frequently enough people will sooner or later believe it." (that the Israelis so avidly use Nazi propaganda techniques should tell you all you need to know about them!)
https://electronicintifada.net/blogs/asa-winstanley/israel-running-...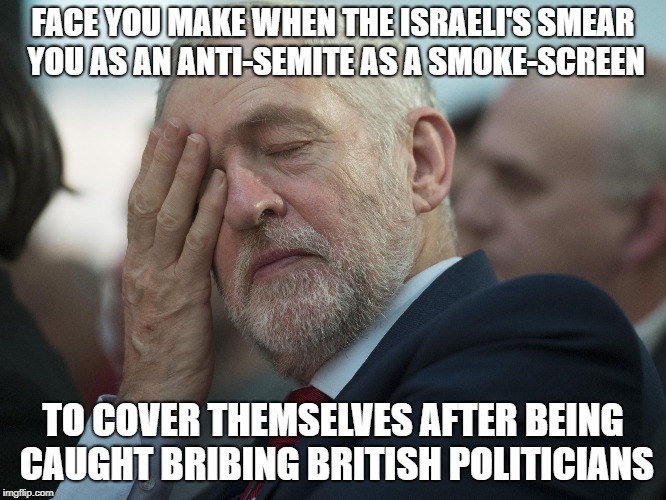 FFS, they even have "an app for that":   Act.IL app   ...and it's not just limited to elections, it also includes on-going propaganda and internet "manipulation" to promote fascist Israel's agenda.
http://thehigherlearning.com/2014/07/11/israels-government-is-payin...
So the next time you are wringing your hands over how insidiously evil the Russians are for screwing around with our elections, remember who we are giving
38+ fucking BILLION dollars to!
BTW, if you think giving Israel BILLIONS and then watch them spend millions to MEDDLE IN OTHER COUNTRIES ELECTIONS is wrong, you are in good company...  81% of all Americans agree with you!
(not that that has ANY effect on the corporately owned Democrats and Republicans in Congress...)
P.S.  The response to this will either be a long, convoluted post that accuses me of plagiarism, antisemitism and kicking puppies OR it will be deafening silence on the subject, because they know it is true and can't come up with any viable excuses...,  THEN they will follows Goebbels' advise and re-start the on-going defamation and smearing in a day or so...  that is just how they work...  bank on it!