Emily
"The Sac and Fox culture is based upon respect for the life within themselves, their families, their communities, and all of creation. The Creator gave this way of life to the Sac and Fox people. The culture is the way things are done in relation to each other and all of creation. The Sac and Fox way of life is spiritually-based. They seek the guidance of the Creator in how to live. The oldest continuing religious practices are ceremonies like clan feasts, namings, adoptions, and burials. More recent religious practices include the Drum Dance, the Native American Church and Christianity."  (from the Sac and Fox Nation website.)
The early religious beliefs of the Sac and Fox Nation sound much like Buddhism and like the seven principles of the Unitarian/Universalist Church. 
I'm conflicted about the confederate statues, and it has nothing to do with honoring my confederate ancestors.  My wife's cousin who has was an Army brat but has lived most of her adult life in New Orleans and surrounding towns feels the same.  I haven't talked with her extensively, but I think, although her father was career military and "gung ho" as you can get, and because she is conservative about a lot things, our reasons are similar.  We are destroying history.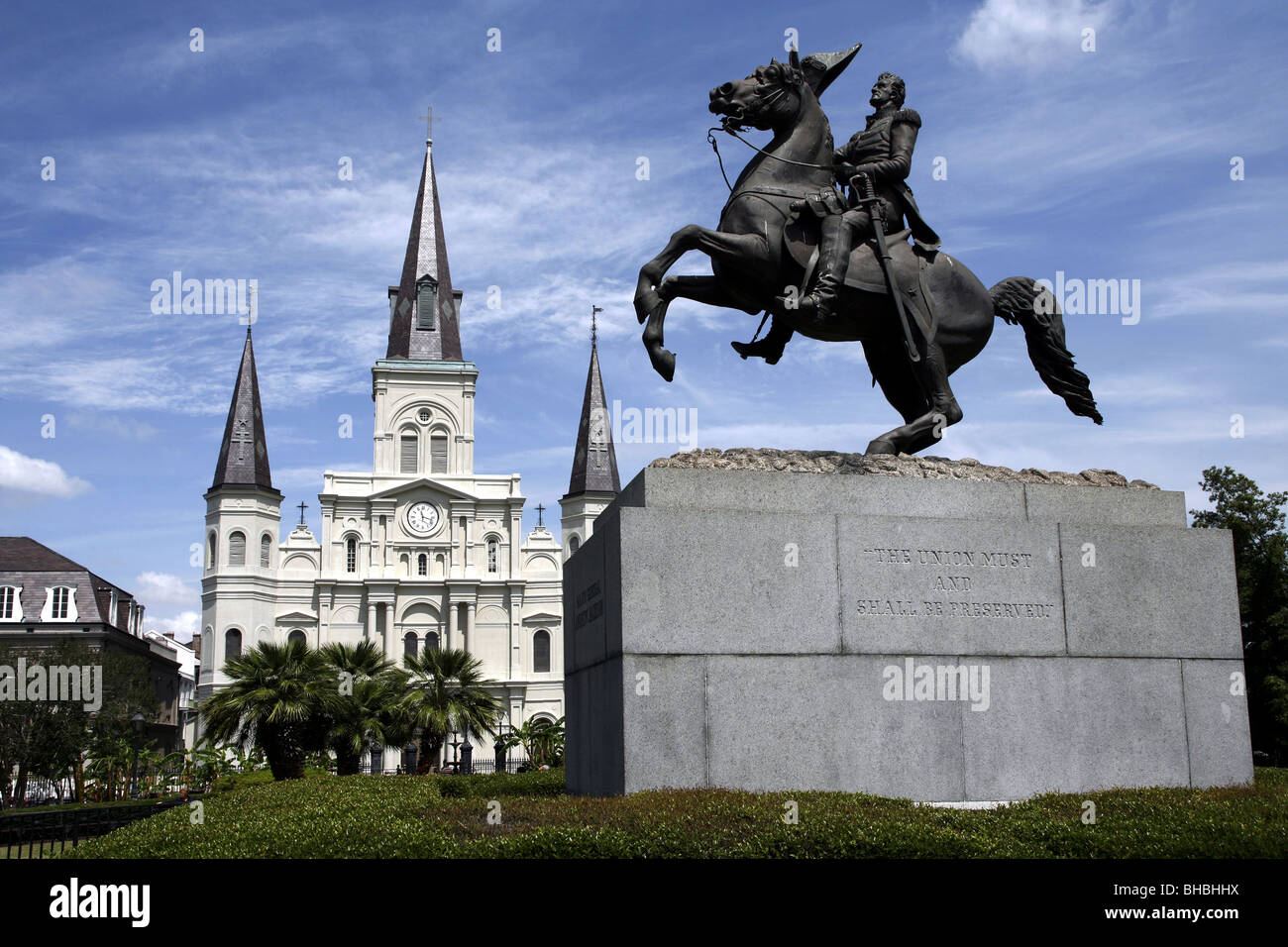 General Andrew Jackson
Jackson Park in front of St. Louis Cathedral, New Orleans, LA
The Taliban leaders who blew up the giant statues of the Buddha in Afghanistan and the young French soldier who blew the nose off of the Sphinx acted out of completely different principles, but the result was the same; they desecrated enormous works of art and historical records of previous cultures and beliefs.
Two movies have been made about enormously talented athletes who were honored at the time of their winning Olympic gold and then ignored and made to return to their lives as second class Americans.
Last night we watched the movie, "Race", about Jesse Owens who won four gold medals in the 1936 summer Olympic games and Owens experiences at Ohio State and the Olympics.  I watched the movie, "Jim Thorpe" years ago which was about the Sac and Fox indian who competed and won medals in the 1912 Summer Olympics.
Both movies detail the run-up to the games, but don't dwell much on later years as both men struggled to learn how to live again as second class citizens.
Jesse Owens was a track and field star.  He set records for the 100 meter dash and the broad jump, that weren't broken for decades.
Jim Thorpe, by all accounts, may have been the most talented athlete of the first half of the 20th century.  He competed in everything including basketball, baseball and football and played semi-professional baseball and professional football in what would become the NFL.  He died of alcoholism.
I'm glad both of those movies were made.  Otherwise, many Americans would have never known that some of our greatest heroes were members of minorities.
Returning to the statues; I think they should have been preserved with plaques describing their parts in American history.  If you have ever been to Jackson Park in New Orleans, you will know that there is an enormous statue of Andrew Jackson.  Jackson, contrary to the impression of the 45th president of the United States, was not in the civil war. 
Jackson presided over a systematic land grab and decimation of a number of Indian tribes. (I understand that Indians, once pejoratively called "Injuns", prefer to be called Indians again, or to be referred to by their tribal name rather than Native Americans.)  It's their choice.  I think that visitors to Jackson Park ought to be able to read about Jackson's entire history, good and bad.
My parents were from Oklahoma, and I was born there.  I was raised in Fort Smith, Arkansas, established as a fort before there was an Oklahoma.  Originally built in 1817 the fort was occupied by a small troop of "rifle regulars", was never visited by the general Smith for which it was named, and was closed a few years later.  The fort was again activated during the resettlement of the Cherokee and Choctaw Indians, many of whom settled in Fort Smith and the nearby town of Van Buren, Arkansas.   As a grade schooler I learned about the "five civilized tribes"; Choctaw, Cherokee, Creek, Chickasaw, and Seminole.  No one mentioned the Sac and Fox except to talk about Jim Thorpe.
General Jackson's name didn't come up much when I was young.  We were more interested in the much later period of the 1880s when court was held by Judge Isaac Parker who tried the likes of Belle Starr, Cherokee Bill and other outlaws who fled into the nearby Indian Territory and were brought back by U.S. Marshalls.  We pretty much sided with the Indians, because many of the people in the area had Cherokee ancestors.  I went to high school with a brother and sister who were Choctaw.
A U.S. Marshall's museum is being built in Fort Smith along with a huge statue of U.S. Marshall, Bass Reeves.  The museum is set to open in 2018.
I realize that there is something especially hateful about statues of Confederate Generals, and for many of the preservationists who claim to be interested in preserving history, the history that they want to remember is one of slavery and white entitlement.
I would hate to think that at some future date, sentiment would turn and some group would tear the statue of Bass Reeves down.